Communication
The Latest Developments & Updates
Find more news on communication-related issues important for the Dutch LSH sector. Ranging from expansion of the Top Sector LSH and important publications.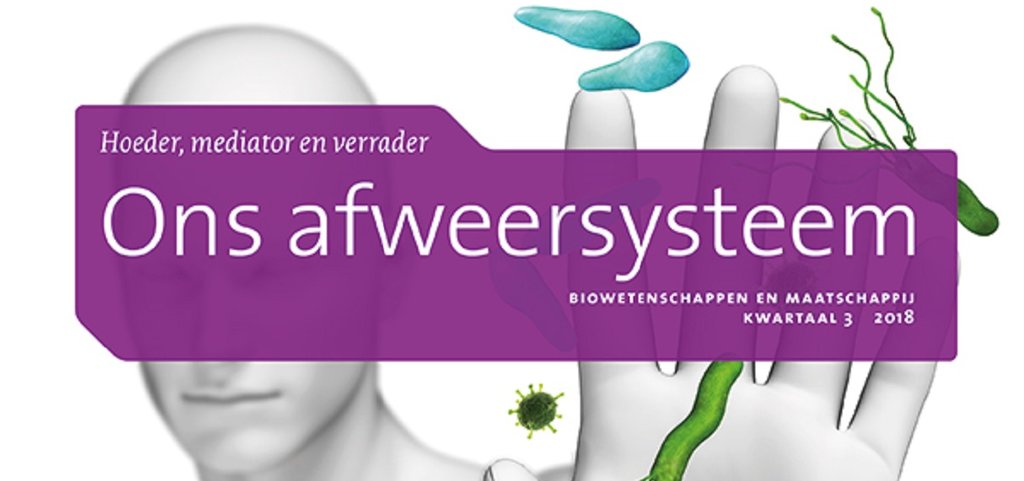 New publication "Our immune system: guardian, mediator, and betrayer"

The new publication (in Dutch) by Biosciences and Society (Biowetenschappen en Maatschappij) explains all about our immune system and how it can guard, mediate or betray us. The interesting patient perspectives on autoimmune diseases brings the story of the immune system to life.

Our immune system protects us from pathogens and fights cancer. It consists of a whole army of immune cells and antibodies. When the immune system fails or reacts unnecessarily or excessively, it results in immune disorder, allergies, or autoimmune diseases. Fortunately, there are a growing number of insights into how these 'mistakes' in our immune system emerge.
In the new publication, people tell their stories about the impact of their disease on their lives. After these stories, immunologists, pulmonologists, paediatricians, allergists, dermatologists, neurologists, haematologists, oncologists, cell biologists, microbiologists, and epidemiologists tell the story from their perspective and profession. They also explain how the immune system is involved, what the current treatments are and what new treatments are expected in the future.
This publication is the result of a cooperation between scientists and specialists from, among others UMCU, UMCG, LUMC, Radboudumc, VUmc, AMC UvA, Erasmus MC, RIVM, Sanquin Research, University College Roosevelt, and Wageningen University & Research.
Interested? Read the publication (in Dutch) here. Or read how the Top Sector LSH stimulates new research on the immune system.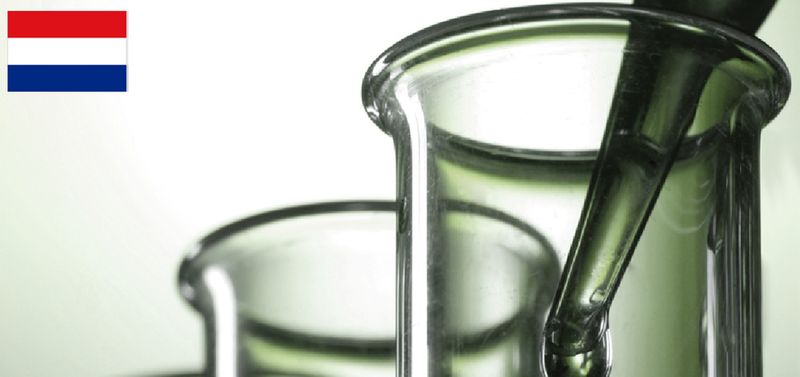 Trend analysis: Great year for Dutch biotech R&D

The leading global business development database Biotechgate presented its 2018 trend report for the Dutch life sciences market. The annual trend report confirms the top position of the Netherlands in the life sciences industry.

For the Dutch biotech research and development efforts, 2017 proved to be remarkably fruitful. The development pipeline contains more products than previous years. Currently, 42 phase I, 47 phase II and 11 phase III studies are registered, which is almost twice as much as the total number of studies reported two years ago. And the preclinical studies are impressive, too. In total, 97 products are in preclinical development, holding promise for a bright future.
The total number of biotech companies is relatively stable: 455. The analysis reflects a well-established Dutch biotech sector. The data confirms the status of The Netherlands as Europe's most attractive and innovative biopharmaceutical industry environment.

According to HollandBIO's managing director Annemiek Verkamman, the Dutch Life Sciences sector is rewarding like no other. 'In terms of scientific excellence and technological innovation the Netherlands is on top of Europe's list. In our joint vision Life Sciences 2030, we show that our sector has what it takes to evolve into one of world's leading clusters in 2030. The data of the trend analysis show we are on the right track!'
Biotechgate is a global business development database containing over 50,000 high-quality company profiles including company descriptions, contact information, product pipeline information, financing rounds and more. Biotechgate is owned and operated by Venture Valuation AG, a Zurich-based company specializing in independent assessment and valuation of technology-driven companies in high-growth industries.
Whether you are looking to partner with a Dutch company or looking for a specific service, you'll find the most complete overview of the Dutch life sciences sector at www.dutchbiotech.com.
Source: HollandBIO

Introducing new Advisory Board member André van de Sande

In April 2018, André van de Sande joined the Advisory Board of the Top Sector Life Sciences & Health (LSH). He has 30 years of Life Sciences experience as a senior executive in both mature and emerging markets in Western and Central Europe, Asia Pacific and Middle East Africa. On 1 February 2011, André van de Sande became the CEO of Xendo. He is also a former Chairman of the Dutch Biotech Association BioFarmind where he worked on the merger with Niaba to form HollandBio. Within the Advisory Board of the Top Sector LSH, André van de Sande represents the industry. So who is André van de Sande and what is his vision for the sector?

Can you describe a typical day in the life of the CEO of Xendo?
A "typical day" at Xendo is difficult to describe as an international consultancy company operates in a very dynamic environment. However, some of the important elements are the contacts with our customers who regularly present us with complex technical challenges that they want us to solve for them. In view of our recent rapid growth, we now continuously focus on bringing new top talent into the company and further developing young graduates through our Young Talent Program. I have also been very busy with the international expansion of Xendo. We have made several international acquisitions, and recently Xendo has joined a US consultancy firm. As a result of these efforts, the company has grown from 60 employees only six years ago to well over 1000 now.

"I strongly believe that the opportunities we have and the challenges we face need to be tackled together."

What is your personal motivation to work in the Life Sciences & Health sector?
I have worked in the Life Sciences and Health sector for 30 years. First, in various senior positions within the pharmaceutical industry and now at Xendo where we support the development and quality of new compounds and treatments for our biopharmaceutical and hospital clients. I am still intrigued by the direct positive impact we can have on patients, and this has always motivated me to continue our efforts to improve health further. The achievements of the industry together with our other partners have been impressive.
I expect this trend to further accelerate in the near future.
How do you see the role of the industry in the top sector policy?

I strongly believe that the opportunities we have and the challenges we face need to be tackled together. We will only make the progress needed if we understand each other's needs and difficulties, cooperate fully and look for solutions. I look forward to stimulating that dialogue and jointly creating new ideas and solutions.


Do you have personal experience with public-private partnerships?
My experience has been limited in this area, but I am a strong supporter of it. The Netherlands has been a frontrunner when it comes to public-private partnerships. The current programmes and results are impressive, and I look forward to being able to contribute to that.


What are the strengths and weaknesses of the Dutch Life Sciences & Health sector? And how can we tackle these?
The healthcare environment is top notch in the Netherlands. And our science-driven approach is excellent and internationally recognised. Nevertheless, I believe that we need to improve our collaboration further. Sometimes we still operate too much from within different silos. We need to work together within a single integrated approach, especially in such a relatively small country like the Netherlands.


How do you see the future of the Life Sciences & Health industry in the Netherlands?
The Netherlands has an excellent infrastructure, a strong academic backbone and a strong healthcare system. If we can align our interests, we should also be able to stimulate the economic climate and performance further. The relocation of EMA to the Netherlands can give another boost to our LS&H ecosystem.


What is your message to everybody working in the Life Sciences & Health sector?
My message would be to join forces as much as we can to work on our common interest. We face considerable challenges, but we also have excellent opportunities. And both healthcare, as well as our economy, can benefit from that.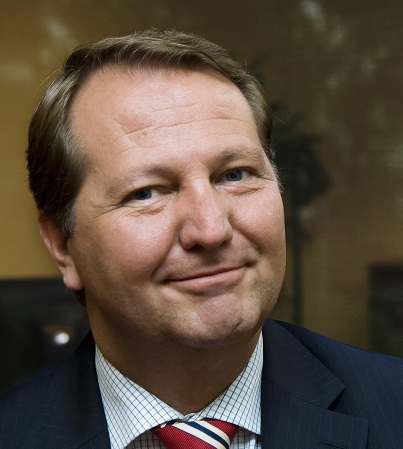 Patients, doctors, scientists and financiers join forces in Dutch CardioVascular Alliance
Ambition: detecting cardiovascular diseases at an earlier stage, developing solutions faster and offering these to patients quicker.

Suddenly experiencing an infarct or stroke will be a thing of the past within 10 years. That is the ambition of the Dutch Cardiovascular Alliance (DCVA), a new collaboration between twelve organisations, involving scientists, Top Sector Life Sciences & Health and healthcare professionals in the area of cardiovascular research. The DCVA was festively launched today during a presentation in the Muntgebouw in Utrecht.
The national cooperation will lead to earlier detection of cardiovascular diseases, faster development of solutions and a quicker way to offer these to the patient and evaluate them. The shared goal is to decrease the disease burden by 25% in 2030.


Roadmaps for relevant care

"The high disease burden associated with cardiovascular diseases is one of the major healthcare challenges of the future", says Floris Italianer, director of the Heart Foundation and one of the initiators of the DCVA. "Every day hundreds of people suddenly experience a cardiac arrest, stroke or another cardiovascular disorder. We need to recognise, detect and treat severe cardiovascular diseases earlier and better. And we can only do this if we collaborate even more intensively. DCVA will develop roadmaps to realise medical breakthroughs and new technology in early diagnosis and the daily care provided by medical professionals. We do not want anyone to suddenly experience an infarct or stroke, and we want everyone to receive the best care."
Improved tests

Improved early diagnostics is one of DVCA's top priorities. Here the focus is on new or enhanced tests, innovative diagnostic tools, and optimal use of the data people collect themselves.
Dr Hans Bosker, chair of Dutch Foundation for Cardiology and intervention cardiologist at the Rijnstate Hospital Arnhem: "The current and yet to be developed techniques make it possible for cardiologists to detect severe disorders like heart failures, cardiac infarcts and cardiac arrhythmias at an early stage so that appropriate measurements can be made on time. Think about an easier blood test that immediately assesses the status of your blood vessels. Or a reliable mobile app that detects deviations in your heartbeat or cardiac functioning in time to prevent a worsening of these. Also, a more elaborative registration of medical history enables a faster comparison of treatments so that it becomes clear which treatment is best for who."

DCVA expects at least 1 billion euros will be needed for research, valorisation and implementation over the next 10 years. The twelve partners will closely collaborate to acquire the necessary personnel and funding as well as new partners.

Collaboration in alliances

Research groups from all universities and hospitals will work together in alliances and receive support from the partners to accelerate valorisation and implementation so that solutions reach the patients faster. Attention will also be paid to developing talent so that excellent researchers are provided for the future, and the Dutch research infrastructure is improved. For example, the organisations involved are building a strong data network that facilitates the sharing and reuse of heart tissues and data for further research.

Scope of the problem: 106 deaths every day
There are currently 1.4 million cardiovascular patients living in the Netherlands. Due to the ageing population, a changed lifestyle and diabetes, this number will grow to 1.9 million patients between now and 2030. One in seven adults will therefore have a cardiovascular disorder, more people will die prematurely, and lives will be restricted.
Apart from the impact this has on patients and their environment, this also leads to significantly higher healthcare costs. Each day, 106 people die because of a stroke, a cardiac arrest, cardiac infarct or another cardiac disease. Approximately half of the people experiencing a cardiac infarct had no previous complaints. Nevertheless, small, scarcely visible signs were often present.

For more information visit www.dcvalliance.nl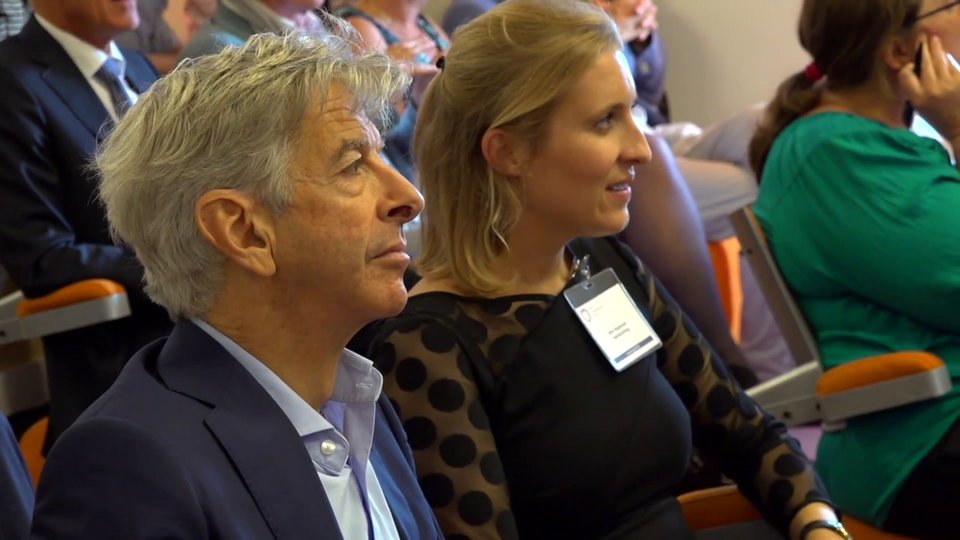 NeurolabNL: presentation of research agenda

At the start of summer, four neuro researchers, Eveline Crone, Andrea Evers, Katy de Kogel and Cyriel Pennartz, handed the research agenda of the NWA-route NeuroLabNL to the Minister of Justice and Security and representatives of the Ministry of Education, Culture and Science. The ambitions of the coalition is embedded in four sub agendas, covering the themes Health, Education, Social Security and Fundamental Research.

Within NeurolabNL researchers, knowlegde institutes and societal partners work together to implement knowledge about the brain, cognition and behaviour in daily life of people. This partnership studies over 400 brain-related questions that came up via the National Research Agenda process last year. Questions like: 'how is it possible that some children develop more rapid than others?' and 'which innovative treatments can be developed for psychical and physical disorders, other than classical pharmacology?'

Download the digital agenda here.
The realisation of the NeuroLabNL agenda has been captured in the following movie: