Business support

Opportunities of Business Support

Stay up-to-date with human capital related developments in the LSH sector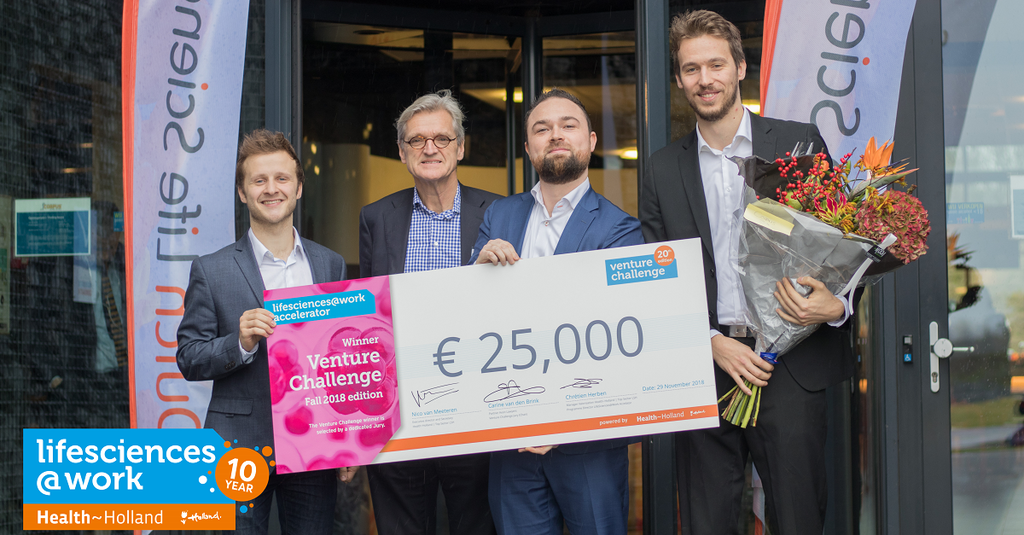 SeraNovo wins the 20th edition of the LS@W Venture Challenge

Solving the insoluble

On 29 November at the Dutch Life Science Conference, Chrétien Herben, director of the LifeSciences@Work Accelerator, announced SeraNovo as the winning team of the 20th edition of the Venture Challenge. The Leiden-based startup SeraNovo helps pharmaceutical companies increase the bioavailability of their drugs through an innovative formulation platform.

According to the Venture Challenge jury, the platform addresses a great need of the pharmaceutical industry. SeraNovo impressed the jury with their expertise and presentation skills at the Venture Challenge finals at Loyens & Loeff last week.

Poor bioavailability stops drugs from getting to the market, which is a major problem for pharmaceutical companies. Solving this issue takes a long time, costs a lot of money and reduces highly profitable patent life. The total market for drug formulation is €9.2 billion. SeraNovo's proprietary formulation platform radically increases bioavailability and allows products to reach the market significantly faster and at a lower cost. For every drug, SeraNovo creates a purpose-designed eutectic mixture and couples it with polymers to create a formulation. When they are administered orally, these formulations create a supersaturated state in the intestine resulting in a significantly higher bioavailability.
Niall Hodgins, co-founder of SeraNovo: "The Venture Challenge asks all the right questions to enable a startup to be as prepared as possible to launch. SeraNovo developed a lot during the process, and we now have a great springboard to service our customers next year. We will continue to recommend the Venture Challenge to any startup who will listen!"
The Venture Challenge Fall 2018 started in September this year and ended during the Dutch Life Science Conference 2018. Other participating teams were IOVA, NeoStartTrack, ExoVectory, River Biomedics and MedCore. Participating in the Venture Challenge leads to a clear venture plan, as well as to very well-prepared pitches. The LifeSciences@Work Accelerator is powered by the Top Sector Life Sciences & Health.

Contact Niall Hodgins for more information about SeraNovo.


LifeSciences@Work celebrated its tenth anniversary with a special publication

The national accelerator for high potential startups LifeSciences@Work started in 2008, and now in 2018, it proudly celebrates its tenth anniversary. To mark this festive occasion, this special edition of the Health~Holland Update of November is devoted to the LS@W accelerator programme. The accelerator programme that the Top Sector LSH supportes.

According to Chrétien Herben, Programme director of LS@W and Valorisation Manager of Health~Holland: "Starting a business in the life sciences is a long process, but a worthy one. So we have only just started!"


In this special Update, you will find an overview of the last ten years of LS@W, interviews with entrepreneurs, facts & figures about the programme, and lots of experiences of participants. Get inspired and discover where the Dutch life sciences sector has his roots.


Read the new Update by clicking on the cover below: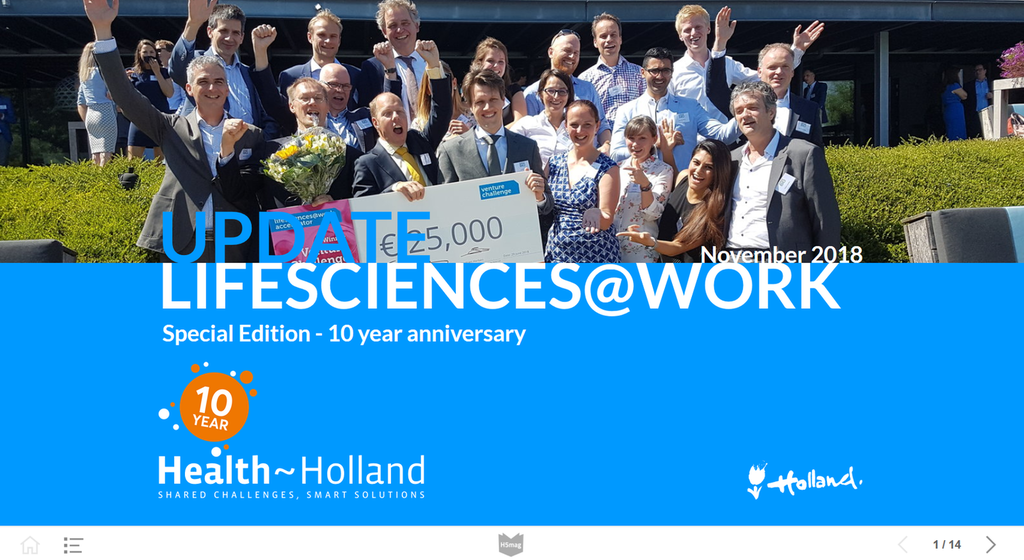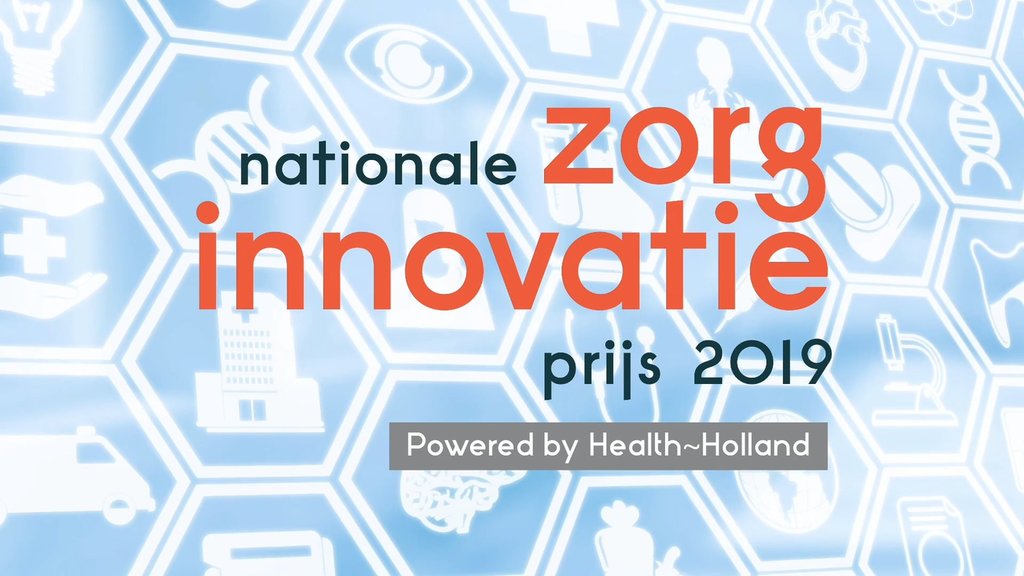 National Healthcare Innovation Prize 2019: now open for application

Would you like to pitch your healthcare innovation to partners, startups, experts, healthcare institutions and financiers? Register now for the National Healthcare Innovation Prize 2019 and you could win 5,000 or 10,000 euros!

On 14 March 2019, the National Healthcare Innovation Prize will be awarded at the Health Valley Event. A prize devoted to the best innovative Dutch company in the upscaling phase.


Participants have a chance to win:
A sum of money totalling €15,000 (€ 10,000 for the jury prize and € 5,000 for the public prize).
Professional guidance in the further development of their innovation.
Access to the ZorgInnovatie.nl network.
A fantastic opportunity for scale-ups to accelerate their development

Finalists receive free admission for the Health Valley Event on 14 March 2019.

Be inspired by previous winners of the National Healthcare Innovation Prize:

Be on time and register your innovation before 31 December 2018. For registration or more information go to Zorginnovatie.nl.