Access to funding

Significant growth in financial resources of the Top Sector LSH
Since the start of the Top Sector policy in 2012, the Life Sciences & Health (LSH) sector has worked on increasing its financial resources. This year the Top Sector LSH has experienced a significant growth of the Public-Private Partnership (PPP) Allowance compared to previous years. This means that more financial resources are available to invest in new innovate research and development projects (R&D).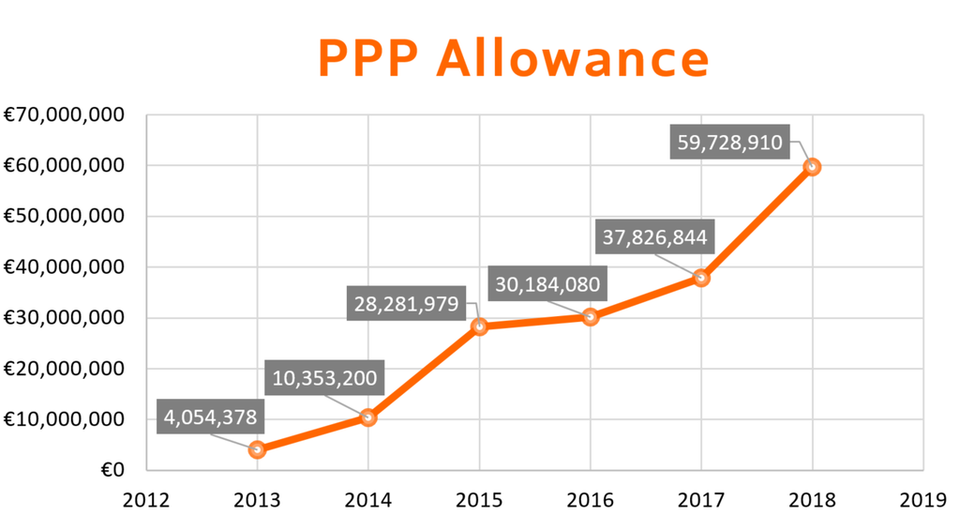 Building up financial resources
Due to the growing LSH sector, an expansion of the available financial resources by the Ministry of Economic Affairs and Climate Policy and the increased familiarity with the PPP Allowance regulation, the financial potential of the Top Sector has increased from almost €38 million last year to nearly €60 million this year. These resources are a direct result of the PPP Allowance regulation of the Ministry. This regulation states that for every single private euro invested in R&D in a public-private consortium, the Top Sector LSH receives 30 euro cents. Last year this was 25 euro cents, but this year the Ministry of Economic Affairs and Climate Policy increased the amount to 30 cents.
Stimulating public-private partnerships

Over time, the financial potential of the Top Sector LSH has grown significantly, from €4 million at the start to the current amount of nearly €60 million. With this amount, more innovative research realised by public-private partnerships (PPP) can be supported. Research organisations, health foundations and companies (startups, SMEs and industry) are invited to jointly invest in research and development (R&D) for the benefit of evidence-based innovation and to help build a strong and sustainable LSH sector that contributes to the global societal challenges: health and care.

PPP Allowance projects
Through the PPP Allowance, the Top Sector provides a financial instrument to help public-private consortia realise their innovative ideas. Consortia can apply for a PPP Allowance twice per year and get co-financing for up to 75% of the R&D costs. So far this Match Call has funded over 200 projects since the Top Sector's founding at the start of 2013. Each week a new R&D project is presented on the Health~Holland project page to inspire others, but also to show the great potential LSH innovations have.
Watch the animation below that explains the PPP Allowance: