Communication
The latest developments & updates
Find more news on communication-related issues within the Dutch LSH sector. Ranging from training programmes, events, blogs or awards.


Recommendations towards an innovative and future-proof biotechnology policy

Recognising both the importance of biotechnology for our society and the pace of biotech innovation, the Dutch Ministry of Infrastructure and Environment (IenM) aims to modernise its national biotech policy. HollandBIO, the Dutch biotech industry organisation, applauds IenM's initiative. Representing over 150 biotech companies, HollandBIO strives for a society that makes the most out of biotech as a driver of health, food security and sustainability. A stimulating, future-proof and innovation-minded biotechnology policy is crucial in realising this ambition. With the support of Top Sector Life Sciences & Health, HollandBIO listed three key principles that should be taken into account when designing a successful biotechnology policy:
Vision: putting sustainability and health first
Policy: applying the Innovation Principle to balance benefits and risks
Execution: the Netherlands best-in-class with regards to procedures and implementation
Read the full version of the recommendations of HollandBIO to establish an innovation-friendly and future-proof biotechnology policy.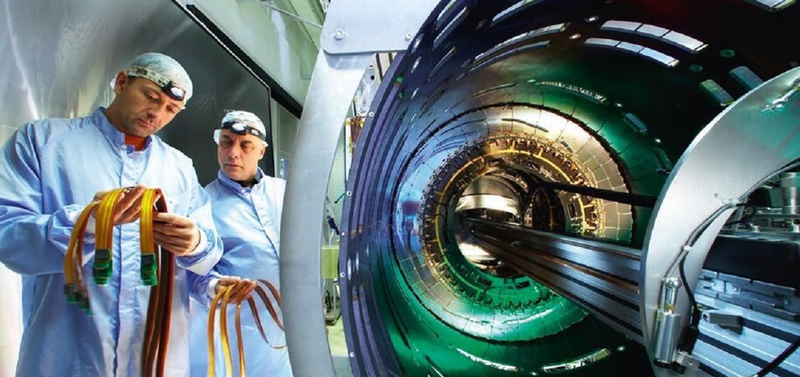 Dialogic Report: Dutch industry strengthens its competitive position through collaboration

Publication of Dialogic Report on the top sector approach

The collaboration between companies, knowledge institutes and government is strengthened through the execution of the top sector approach (part of the enterprise policy) of the Ministry of Economic Affairs. Private and public resources are much more selectively spent and consequently the advantages of the policy outweigh the investments. This is one of the conclusions of Dialogic's evaluation report about the effectiveness of the top sector approach published in June this year.

Minister Kamp: "During the last cabinet period, a lot has been invested in the collaboration within the most important sectors of the Dutch economy. According to the external evaluation the top sector approach has proven to be effective. The Netherlands has even become the innovation leader of the EU. Further improvements can still be made, however I hope the new cabinet will continue with the top sector approach and further increase investments in research and development."
Top Sectors in progress

The last five years were dominated by organisation of the partnerships, private and public commitment and elaboration of joint ambitions and programmes. The next step will involve focussing more on the global challenges concerning safety, climate, energy and health. These important themes are explained in the new Knowledge and Innovation Agendas.


Research method
The evaluation of the top sector approach was conducted by Dialogic on behalf of the Ministry of Economic Affairs and supervised by a committee under the guidance of professor Bart Verspagen. Together with previous evaluations of financial policy instruments (PPP Allowance and MIT) this report gives a coherent overview of the top sector approach.

Read the Knowlegde and Innovation Agenda of Top Sector LSH here.

Utrecht Science Park officially launched

A year has passed since Bilthoven Biologicals, as former owner of Science Park Bilthoven, municipality De Bilt, province of Utrecht and foundation Utrecht Science Park signed a declaration of intent to collaborate in the field of Life Sciences & Health. On 11 May, the final cooperation agreement was signed and now the cooperation between Utrecht Science Park and Bilthoven is a reality. Utrecht Science Park is the first science park with two different locations. Knowledge institutions, research institutions and companies are working closely together to find new solutions for a longer and healthier life.


Due to the pooling of knowledge, networks and facilities, fundamental research at the cellular level is finding a direct way to the production of the final medicine or vaccine. Great steps can now be made to develop more and better vaccines and medicines and to make health accessible to all. Besides, with the relocation of the RIVM in 2020 to Utrecht Science Park/De Uithof, room is being created to attract new companies in Bilthoven that further strengthen the value chain. It also creates new jobs in the municipality De Bilt. Mayor Sjoerd Potters: "Our municipality is traditionally strong in the knowledge economy with the presence of renowned institutions and companies. At a local level we offer a good business location and they often operate internationally. Therefore, the commitment at an international working environment for our municipality and region is of major importance for strengthening the value chain and employment."

The collaboration will now mainly focus on strengthening the joint proposition. In a second phase a joint acquisition policy will be developed.
On 1 August, Jan Henk van de Velden will become the new director of Utrecht Science Park.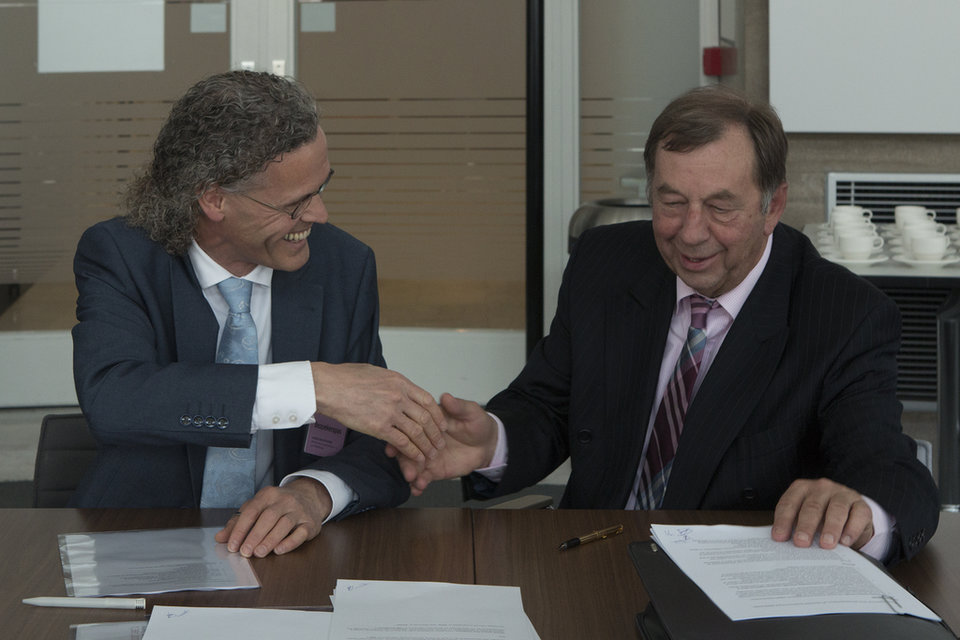 Jef de Clercq, CEO Poonawalla Science Park BV and Friso Smit, interim director Utrecht Science Park
Photographer: Wilma Witkamp

The Netherlands Federation of University Medical Centers programme eHealth

"Anytime, anywhere access to all your personal health information"

Making healthcare sustainable is one of the biggest challenges of the 21st century. The costs continue to rise and the pressure on the healthcare system is growing due to the ageing population and the number of patients with a chronic disease. Thanks to their network of people, highly effective infrastructure, knowledge and the possibilities to translate ideas into creative innovations, the University Medical Centers (UMCs) are playing an important role in the search for sustainable solutions. To enable the eight Dutch UMCs to collaborate more effectively in tackling healthcare challenges, the minister of Health, Welfare and Sport (VWS) decided to establish the Citrine fund for the period 2014 – 2018.

The fund holds 25 million euros and the Netherlands Federation of UMCs (NFU) is responsible for managing it. The NFU and VWS set out five programme themes that research should focus on and they also emphasised the importance of collaboration between all kinds of healthcare parties so that a sustainable healthcare system can be effectively realised. The fifth programme 'eHealth' focuses on the creation of synergy in the fragmented eHealth landscape. With the realisation of 32 evidence-based projects, the eight Dutch UMCs are working to make patients' healthcare data available anytime and anywhere and to create a digital health environment that enables patients to manage their health condition.

See www.nfu-ehealth.nl for more information.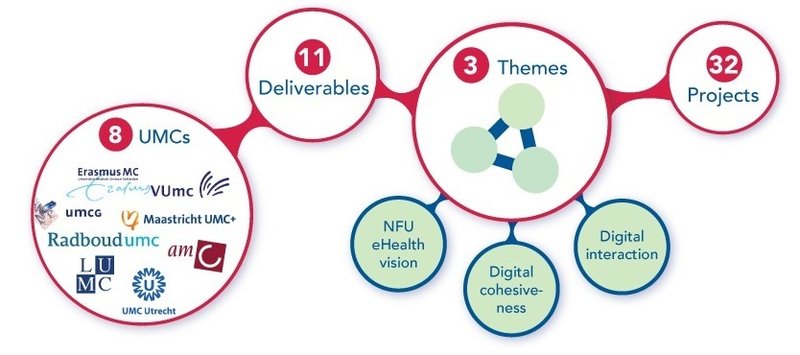 Three nominees for Medical Inspirator award 2017

The ZonMw programme 'Medical Products: New and Necessary!' (MPNN) initiated the prize to stimulate end-users to form alliances with Dutch research groups, and where possible with caregivers and/or businesses. The goal is to stimulate research into medical products that patients, clients, elderly and/or caregivers have indicated are needed. These products are focused on the treatment of the disease or enhancing the quality of life. A jury of experts and representatives of end-users have selected three projects out of 21 submissions.


The three nominees for the most inspiring collaboration are:

'Partner in Balance' in practice: everyone in balance by researcher Lizzy Boots (MUMC) and caregiver Jenny Tillie-Hecker. The pressure on caregivers of people with dementia is increasing due to social developments. In close cooperation with caregivers, the eHealth course Partner in Balance has been developed. The desire is to make this self-management intervention available to every caregiver in the Netherlands.

IV-Wear by researcher Bart Verkerke (UMCG, IMDI Core SPRINT) and patient Anne Doering. In the Netherlands, more than 1 million patients receive an infusion every year after a larger operation. The infusion pole is a barrier to doorsteps, trampling and moving in small spaces such as toilets. Together with a representative of the patient, the project members came up with a portable infusion bag. With this project, researchers and patients are continuing the development of this product.
A Smart App for Breath by researcher Erik Bischoff and patient Joep Fleuren. Smart devices can play an important role in chronic patients. Together with patients, the COPD Smart Care Assistant, a smart app for breathing, has been developed. This app recognises early lung attacks and gives immediate treatment advice. With the support of the researchers, COPD patients themselves make an experiment to examine the influence of the app.


Public Vote

Each nominee will make a promotional film for their project under the guidance of professionals. These videos will be published on the ZonMw website and Facebook. The general public will determine by voting which project will win and which projects are 2nd and 3rd. The winner will receive € 75,000 the runner up will receive € 50,000, and 3rd place will receive € 25,000. The voting will start in October 2017.
Through these inspiring films ZonMw wants to encourage patients to take action and to stimulate researchers to involve patients in their research.
For questions please contact Sandra van 't Padje (+31 70 349 5217).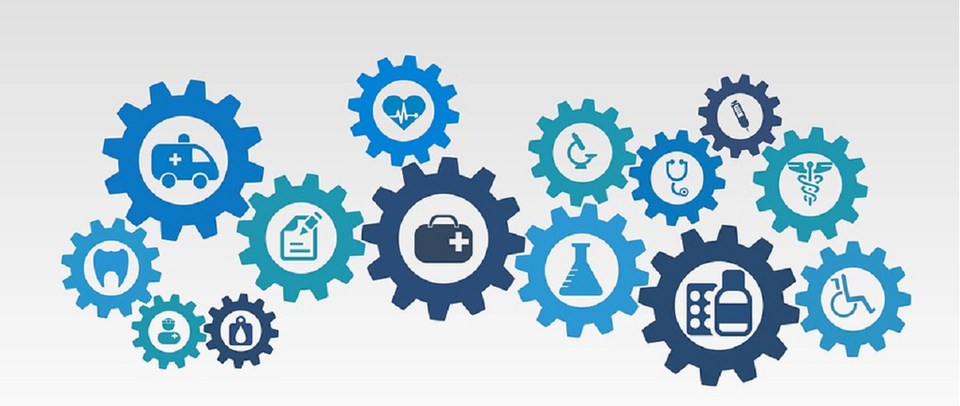 Recommendations on evidence-based practice

The Council for Public Health and Society publish 'No evidence without context'

Every now and than an interesting publication pops up within the mass of Life Sciences & Health (LSH) publications. Here we want to draw your attention on the recent publication 'No evidence without context' of The Council for Public Health and Society (Raad voor Volksgezondheid en Samenleving, RVS). With this report RVS has started a discussion on what exactly 'evidence' and more in particular 'evidence based medicine' is in the perspective of the healthcare setting. We hope that the report and all the more so the discussion that emerged finds you well. It might be good to take part in this discussion and let the outcomes strengthen our future and that of the patients entrusted to us all.


No evidence without context. About the illusion of evidence‐based practice in healthcare

Evidence-based practice as the basis for good healthcare is an illusion. The RVS pleads the case in a recommendation issued called "No evidence without context: About the illusion of evidence-based practice in healthcare" for placing the context within which care is given at the centre of the practice, policy and financing of healthcare. The emphasis in healthcare has shifted to external accountability, transparency, standardisation and controls. Much of what is valuable in the personal relationship between client and healthcare provider is not encapsulated in the existing research methods and indicators. By making this recommendation, the RVS wants to initiate a dialogue from a different perspective about new foundation for good healthcare.
Jan Kremer, an RVS council member, says, "Good healthcare is above all a question of heart and soul, not merely intellect. It's about what we think is right to do in the vulnerable phases of people's lives. And that's not the same for everyone. Unambiguous scientific evidence does not do proper justice to this moral and personal side of good healthcare. We need to keep talking to each other about what constitutes good healthcare, with the human context as a key input."
Focusing on the context has consequences at three levels: nationwide, locally and in the consulting room. For all those levels, RVS wants to get away from relying on uniform evidence and move towards encouraging learning and improving together in the context where the healthcare is provided. Medical decision-making in practice is based on linking different sources of knowledge together, such as stories, experiences, local data and (still) evidence. That way of working goes hand in hand with uncertainty and ongoing learning and improvements. This demands greater trust from both the supervisory bodies and the funding of healthcare in the judgements that professionals and patients make together, and rather less on strict observance of restrictive guidelines.
The recommendations 'No evidence without context: About the illusion of evidence-based practice in healthcare' can be downloaded here.
Source: RVS


NWO Spinoza Prizes awarded to Eveline Crone, Albert Heck, Michel Orrit and Alexander van Oudenaarden

On June 16, 2017 NWO President Stan Gielen announced that developmental psychologist Eveline Crone, analytical chemist Albert Heck, physical chemist Michel Orrit and biologist and biophysicist Alexander van Oudenaarden have each been awarded an NWO Spinoza Prize. These researchers have been given this prize for their exceptional, pioneering and inspiring work. The NWO Spinoza Prize is the highest scientific distinction in the Netherlands. The laureates will each receive 2.5 million euros which they can spend on scientific research.

The NWO Spinoza Prize is not only an honour but also an incentive to conduct further research. NWO awards the Spinoza Prizes each year to no more than four researchers working in the Netherlands who rank as the leading authorities in their field according to international standards. Not only do they conduct high-quality research that has a major impact within and outside their field, but they are also an inspiration to younger researchers.


Internationally renowned leading scientists
Professor Eveline Crone, professor of neurocognitive developmental psychology at Leiden University, was one of the first in the world to systematically monitor over several years adolescents, their lifestyle and the neurological processes in the brain. Her innovative insights were the impetus for an entirely new field of research, which explains why her colleagues describe her as an international opinion leader.

Professor Albert Heck has made a major contribution to the worldwide breakthrough of systematically mapping all proteins in human cells and their biological functions by means of mass spectrometry. This technique plays an important role in current research on illness and health, and therefore contributes to the development of new and better medicines. Heck is professor of both chemistry and pharmaceutical sciences at Utrecht University. He has been praised for his broad-based cooperation with researchers from other scientific fields and industry, and for his unique ability to innovate.
Professor Michel Orrit's work has helped to unravel the physical and chemical processes in living matter and has contributed to identifying the cause of serious diseases such as Alzheimer's and Ebola. Orrit is professor of spectroscopy of molecules in condensed matter at Leiden University. Orrit laid the foundation for single-molecule optics and is considered by his peers to be one of the leading and continuously innovative researchers in this field.
Professor Alexander van Oudenaarden has been praised by his peers as a pioneer in single-cell biology, and he is considered to be a global authority in this new field. Van Oudenaarden is director and group leader at the Hubrecht Institute (KNAW), which works closely with the University Medical Center Utrecht, and he is professor of quantitative biology of gene regulation at the Faculty of Science and the Faculty of Medicine at Utrecht University. Van Oudenaarden conducts research on the way in which cells in living beings use networks of genes and proteins to develop into different kinds of cells, which have specific properties and functions.


Committee
Researchers are nominated for the Spinoza Prize. This year the Spinoza Committee received 34 nominations. Based on these nominations an international science-wide committee compiled a shortlist with no more than eight candidates. Committee members discussed each candidate with several foreign experts. Partly based on these discussions, the committee referred four scientists to NWO for the Spinoza Prize this year. The most important criterion for being awarded an NWO Spinoza Prize is international recognition of the candidate's quality as a scientist. Including the new laureates, there are now 85 Spinoza laureates in the Netherlands.


Award ceremony
The NWO Spinoza Prizes will be awarded during a festive ceremony on Tuesday 12 September in the Koninklijke Schouwburg in The Hague. During the ceremony, the laureates will present their research to the audience and how they intend to use the financial part of their prize.



Eveline Crone, Albert Heck, Michel Orrit and Alexander van Oudenaarden (Photography: Ivo de Bruijn)


Also read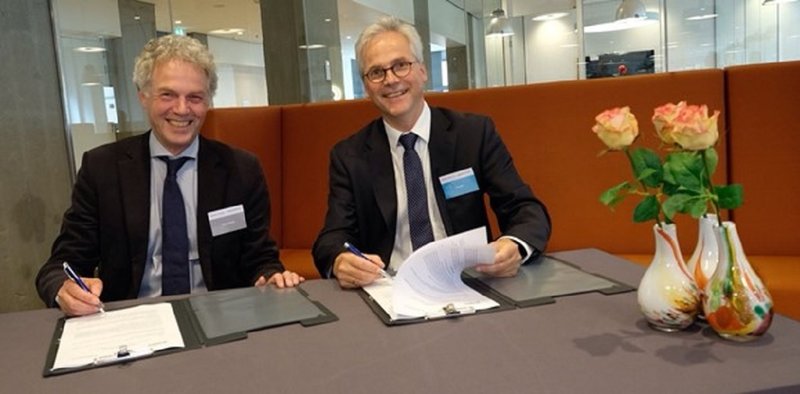 Twente University-Radboudumc collaboration strengthened

Radboudumc and Twente University strengthen their scientific collaboration. Four project-based grants of 80K€ each were awarded to new collaborations between researchers from both institutes.

The pre-established collaboration between Radboudumc and Twente Universty has been made official by signing of the 'Twente University Radboudumc Opportunities' (TURBO) programme. The TURBO programme is in line with the 'concepts for a healthy life' initiative.

The aim of the TURBO programme is to facilitate research between the institutes that will increase the possibility of collectively obtaining external funding in the fields of 'health and technology'. Additionally, this agreement will stimulate the exchange of knowledge and expertise between researchers and students. In the first TURBO-grant call 27 proposals for joint research projects were filed. Proposals were evaluated on scientific quality, feasibility of project and likelihood of obtaining additional funding, innovativeness and (societal) impact.


Artificial Neural network

While the sequencing of a human genome is no longer difficult, predicting functionality and phenotype from a DNA sequence remains a challenge. Wilfred van der Wiel (Twente University) and Mihai Netea, theme Infectious diseases and global health propose a neural network approach to predict human immune response based on genetic data. Their project – 'From genetics to immune response: a neural network approach'- aims to unravel the genetic and non-genetic factors that influence the human immune response.


Colon-on-a-chip

Hypomagnesemia is a common side effect of stomach-acid reducing medicines (PPIs). Recently, PPIs were shown to cause disturbances in the composition of the gut microbiome resulting in low serum magnesium levels. In the project 'COLON-CHIP (Co-culture Of microfLora on eNterocytes in the Complex Host Instestine Physiology), Dimitrios Stamatialis (Twente University) and Joost Hoenderop, theme Renal disorders will develop a novel colon-on-a-chip device that allows co-culturing of anaerobic gut bacteria with intestinal 3D villi-like structures. This device can be used for large-scale compound testing.


Blood-brain barrier

Medicines for brain disorders must cross the blood-brain barrier. To examine in the laboratory if medicines effectively cross the blood-brain barrier, good cell models are needed. Jan Eijkel (Twente University) and Kees Albers (Radboudumc) will develop brain-on-a-chip models to examine how medicines for neurological disorders cross the blood-brain barrier and influence the development of nerve cells.


Self-healing dental composite
"White fillings" are widely used in restorative dentistry. However, fracture of composite restoration due to microcrack formation remains a major drawback. The development of self-healing composite restorations with the capacity to repair crack in situ would overcome the major shortcoming of the current generation of dental composites. Jos Paulusse (Twente University) and Sander Leeuwenburgh, theme Reconstructive and regenerative medicine will join forces to develop biocompatible microcapsules for the development of truly self-healing and fatigue-resistant dental composites.

Source: RIMLS
Member of Top Sector LSH Advisory Board Anton Pijpers appointed new president of Utrecht University

Professor Anton Pijpers, the new president of the Executive Board of Utrecht University

With effect from 1 October, Professor Anton Pijpers (1958) will be the new president of the Executive Board of Utrecht University. He has already been vice-president since 2014. Pijpers will succeed Marjan Oudeman, who left the position of president in June. He was appointed by the Supervisory Board for a period of four years with the option of reappointment.

'Anton Pijpers is a highly experienced manager who knows the university inside out', says the chairman of the Supervisory Board, Professor Emmo Meijer. 'Anton has a strong connection with the university. Utrecht University wishes to strengthen its international position in the areas of ed ucation and research, spread its wings and at the same time play a central role in society, with its feet firmly planted in Utrecht soil. Anton Pijpers is very good at combining these two worlds.'

Meijer points out that, in his role as vice-president, Pijpers has taken significant steps towards improving the financial sustainability of the university premises. He also played a major role in the establishment of the Netherlands Centre for One Health. At the same time, he built up a strong regional network. Meijer: 'As a manager, Anton Pijpers has shown that he is good at building bridges and collaborating with students and staff on the challenges facing the university today.'
The Top Sector LSH congratulates professor Pijpers with his new role at the Utrecht University and is really honoured with his contributive role in the Advisory Board of the Top Sector LSH. Check the full Advisory Board on the website.
Read the full article on the website of Utrecht University.