Communication

Top Sector LSH presents new Knowledge and Innovation Agenda: Grow~Motion

Focus on the global societal challenge 'Health and Care'

Top Sector Life Sciences & Health (LSH) launches the Knowledge and Innovation Agenda 2018-2021 entitled Grow~Motion. This new strategic document describes the health and care ambitions for the next four years (2018-2021).

The strategy focuses on the global societal challenge 'Health and Care'. The demand for care is rapidly increasing due to the ageing of the population, lifestyle and the growing number of chronically ill people. In order to properly address this global challenge and exploit economic opportunities, cooperation between citizens, researchers, government and entrepreneurs is essential. Top Sectors and key technologies, such as ICT, nanotechnology and biotechnology, provide a solid platform for interdisciplinary collaboration.
Strong successful collaboration calls for synergy. The new Knowledge and Innovation Agenda provides this by combining the strengths of people and organisations. The routes of the Dutch National Research Agenda, strategic policies of the Dutch government, LSH roadmaps, as well as the key enabling technologies and the link with other Top Sectors form the foundation of the LSH coalition.
Prof. Jan Raaijmakers, ambassador of Top Sector LSH: "With sustainable public-private partnerships, we invest in breakthrough solutions to tackle global challenges, such as the established partnerships RegMedXB and Oncode Institute. Top science and top entrepreneurs aim for societal and economic impact in both interdisciplinary and cross-sectoral terms. With Grow~Motion we are continuing in that direction."

With the mission 'vital functioning citizens in a healthy economy' the LSH coalition will continue to achieve progress in the coming years. National strategic public-private partnerships in the field of cardiovascular diseases, dementia, regenerative medicine and cancer research are developing at a very rapid pace and will further extend in the coming years. In addition, the coalition will continue to search for new public-private partnerships that boost innovation in health and care. Top Sector LSH therefore invites all stakeholders to share the new Knowledge and Innovation Agenda Grow~Motion and contribute to realisation of the shared ambitions.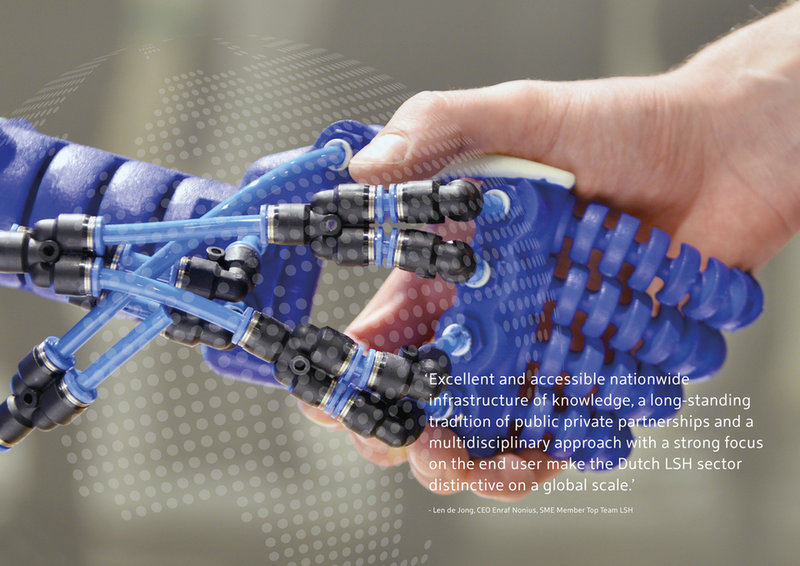 Read the new Knowledge and Innovation Agenda 2018-2021 here. For further questions please contact Health~Holland.