Agenda - Past events

Past Events in the LSH sector

Read more about various events in the sector.

San Diego turns orange with the Dutch Pavilion at the BIO International Convention

In June 2017, Health~Holland and HollandBIO travelled to the BIO International Convention, the largest biotech conference worldwide. With no less than 16,000 delegates, a large exhibition floor and 41,400 requested 1-to-1 partnering meetings, sunny San Diego was the place to be for all who are active in the biotech sector.

125 Dutch entrepreneurs and representatives from the sector joined our delegation, a good reflection of the top biotech companies in our country. Due to the eye-catching orange key cords you could clearly identify the Dutch everywhere.
During the welcome drinks in a packed bar in San Diego, organised by HollandBIO, the starting shot to a successful edition of the conference was given. Once again, the Netherlands was clearly represented at the orange Health~Holland Pavilion on the BIO exhibition floor. The eye-catching pavilion decorated with tulips and the canals of Amsterdam served as an information point for the Dutch life sciences sector and a hospitable living room for busy Dutch conference delegates. People from around the world came together during the nations drinks in the hope of winning the coveted orange Xendo bike, which was eventually won by a very happy biotech entrepreneur from Florida. This was also considerable interest in tickets for the BIO-Europe Spring 2018 in Amsterdam: many international guests could not wait to travel to this prominent biotech event in the Netherlands!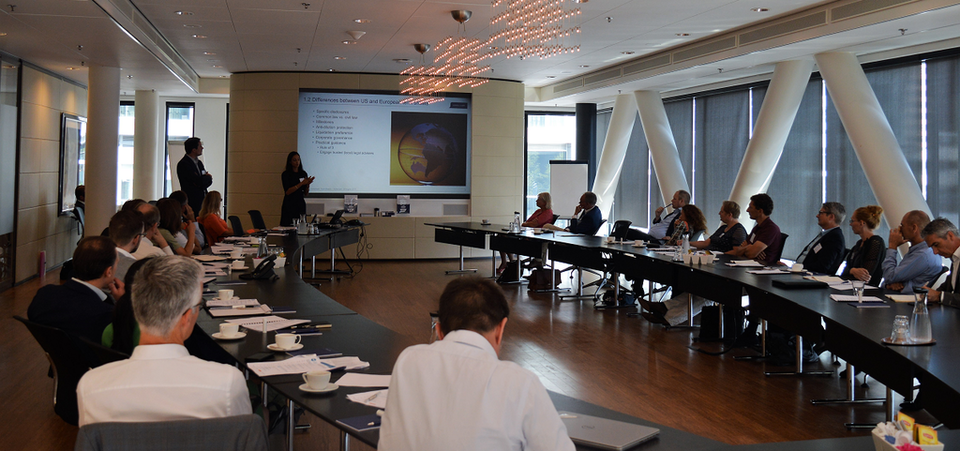 Global Scale-up Program kicks off with 10 promising companies

A mentoring programme pushing the global business strategy of scale-ups to successful market launch.

Ten young life sciences and medtech companies gathered on 29 August to prepare themselves for module 1, the US tour, of the Global Scale-up Program. From 23-31 October 2017, this tour will take them to major biotech and medtech hubs in the United States: Boston, New York and California, where they will receive in-depth training and mentoring, be introduced to the local ecosystem and can pitch their company and innovation to American venture capitalists, informal investors and corporates.

During the kick-off meeting which took place at the office of Loyens & Loeff in Rotterdam various committed investors, serial entrepreneurs and experts were present to listen to the pitches of the young entrepreneurs, give feedback and coach them individually. Keynote speaker Ton Logtenberg of Merus advices: "Americans have a different way of perceiving entrepreneurs, you've got to put more energy in your pitch and pump it up."
This programme, organised by Top Sector LSH and Hyphen Projects under the enthusing leadership of professor Marianne van der Steen of Maastricht University, is designed to help start-ups and scale-ups to make the next leap in their development. It's a unique combination of a global investment journey, training and mentoring that helps the companies truly learn in a pressure-cooker setting and apply their learning to their global business strategy.
There is room for one or two more companies to join the US programme from 23-25 October in Boston & New York and/or from 26-31 October in California. For more info: contact Chretien Herben of Health~Holland or Haifen Hu of Hyphen Projects.

The second module of the Global Scale-up Program will take place in the Netherlands, on 31 January and 1 February 2018 during Innovation for Health and will focus on Leadership and Finance. More info can be found on the website.
Health~Holland Meet~Up brings care and innovation together

Healthcare systems around the globe are facing major challenges with respect to quality, accessibility, affordability and the growing demand for care. Solutions can be found in the power of innovation. Therefore to help care providers learn more about innovative medical technologies and digital services, Mobile Doctors and Health~Holland organised a Meet~Up for innovators and care providers.

All stakeholders must be considered during the development of healthcare innovations. The end user must occupy a central position to ensure fast adoption of the innovation. Besides patients, healthcare professionals are major end users of such innovations. To facilitate and stimulate more intensive contact and interactions both parties met during the Meet~Up on 6 July 2017.


Self-reliance as key topic

During this Meet~Up in Amsterdam, a medical board judged five ambitious startups that work on healthcare innovations with a focus on self-reliance; an important theme in the growing elderly population worldwide. One of those startups is Medicine Men, which has developed a support system for the right therapy and medication usage of young adults with HIV. Or the startup Wolk, which provides an 'airbag' for elderly people with stability problems. Furthermore, a medical board was specifically compiled for this meeting. From 46 applications, 12 healthcare professionals were carefully selected: from medical specialist to physiotherapist and from general practitioner to rehabilitation specialist.
All startups pitched their innovation in five minutes, followed by fifteen minutes of questions and discussions with the medical board. Besides critical questions about implementation and workability, possible collaborations arose during the meeting and the network drinks. A perfect outcome for both Mobile Doctors and Health~Holland. So stay in touch to receive more information soon about the second edition of this Meet~Up.
Source: Mobile Doctors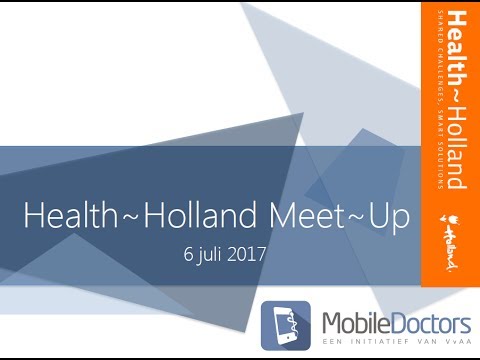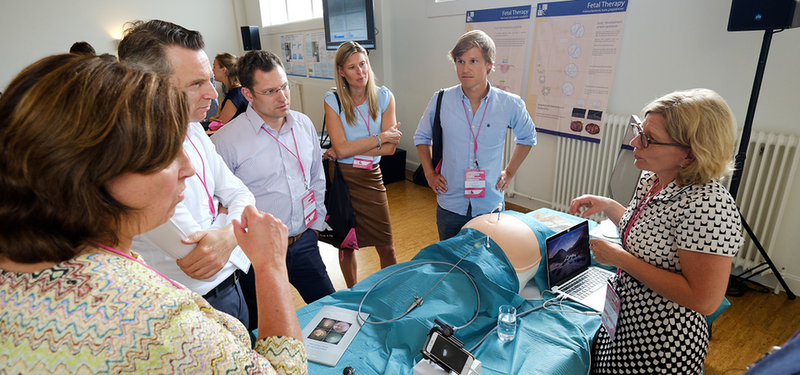 Medical Delta Ready for the next phase

Looking back at the yearly Medical Delta Event

On June 27th the Medical Delta Event titled 'We add value – Value based healthcare & the role of technology' took place. A great line-up of speakers took their audience from undeniable facts and figures along razor-sharp quotes to conclusions inspiring anything from worry to pride.

Already in the first minute it became clear that this event in the Leiden Stadsgehoorzaal was not about contemplating the last ten years in a laid-back way. It was much more about hard labour during the decade ahead. There's work to be done, according to Medical Delta Professor Hans Tanke, especially because the ingredients to become one of the most innovative regions in Europe are there. "Together we have amazing complementary knowledge. This holds incredible potential. It's about time we realise how much we can accomplish together if only we add more goals and focus."
Pancras Hogendoorn, Dean, LUMC Executive Board member and Medical Delta Board member took the stage to explain how the Medical Delta goals could be aligned with the Dutch Research Agenda (NWA) the 2015 Vision for Science, EU programmes and societal trends to reach maximum impact. "The future of medicine goes from hospital to clinic to home, characterised by trends such as better imaging, data to knowledge, smart devices and intelligent systems." He made clear that Medical Delta's capabilities to answer unmet medical needs will be key for success.

Dimensions of value

Several inspiring talks about dimensions of value were held during the afternoon. Firstly, professor of Health Economics Werner Brouwer, member of the 'Zorginstituut', confronted his public with the inconvenient truth of infinite needs and limited resources. Healthcare expenditures keep on growing. The Netherlands, with 12% of GNP spent, now has the second most expensive system healthcare system worldwide.

"Only a couple of years ago, it would have been impossible to have six generations in one photo. Now it can be done."

On the other hand, Hans Schikan, Top team member of the Top Sector Life Sciences & Health, pondered various other dimensions of value. "Only a couple of years ago, it would have been impossible to have six generations in one photo. Now it can be done. Universities, business, government and patients should co-operate to further the idea of vital citizens in a healthy economy." The Dutch life sciences sector already employs 165,000 people in 2,500 companies with a total turnover of 33 billion euros. "The Netherlands rank fourth on the European Innovation Scoreboard. Given the growth trend, we're heading for the runner-up position." Thanks to the vastly enhanced knowledge, the sky is no longer the limit. "This knowledge can be utilised to boost precision medicine, for instance to develop orphan drugs for thirty million Europeans suffering from one of five to eight thousand rare diseases."

One of the keys to success is to bridge the gap between disciplines, director a.i. Agaath Sluijter of Medical Delta told her audience. "We have Medical Delta Professors, joint education programmes, public private partnerships and see to it that business meets science. A new, hands-on addition are the Living Labs which offer real life settings for testing the efficacy, safety and cost-effectiveness of new technologies in hospitals, rehabilitation centres and the patient's home."
To read the full article visit the Medical Delta website.
Three NRC Live evenings held and two more to come

NRC Live series: Future of Healthcare


Evening 1 on Behavior and health

From fast and cheap to sustainable and slow, many consumers have a growing interest in pursuing a healthy lifestyle. However obesity is a growing problem, especially amongst children and adolescents. Unhealthy food is widely available at rock-bottom prices and an active membership of a sports club costs a lot of money. The gap between educated and privileged citizens and less fortunate members of society is growing. This is unacceptable, according to executive councillor Victor Everhardt from Utrecht. He and other opinion leaders, such as Machteld Huber (Institute Positive Health), discussed this dilemma and its possible solutions with the audience during the first session of a five-evening series on healthcare innovations, organised by NRC Live and powered by Health~Holland.

Max Christern (chairman): "Adapting behaviour is a long-term process."

Evening 2 on Technology as motor of innovation

The second NRC Live session addressed the technological branch of the sector. Technological developments and capabilities in healthcare have evolved considerably. The advance of medical technology offers opportunities to not only improve healthcare, but to make it more efficient and cheaper as well. However, paving the way for innovation and building a healthy society requires the collaboration of all parties according to Martijn de Bie (Verscentrum Nederland). During this session the cross-compliances and challenges for the development and implementation of eHealth were discussed. One important conclusion was drawn: to further pave the way for technological innovation in healthcare, we must co-create with the patients. Innovations must be realised not from a medical perspective but from a patient perspective.
Some lessons on patient participation can be found in the report of the PatientTOP.

Gerard Boekhoff (Neokidney Foundation): "We must innovate from the patient's perspective."

Evening 3 on Organising smarter and better

The debate of the second evening was picked up during the third evening on 'organising smarter and better' as the implementation of new technologies is not an aim in itself. The art is to organise the services in such a way that technology not only leads to a more efficient healthcare system, but is also closer to the individual patient. However, there are two obstacles: the shift in mentality and the collaboration between different parties. Nevertheless, during this evening great examples of organising smarter and better were discussed: e.g. Elien Phernambucq on the app Fello, developed in collaboration with care consumers and Dieger ten Berge on the program Vitaal Vechtdaal. How can we go from great examples to a new standard? The organisations must be tilted: do not think from the perspective of specialisations, but from the patient's integral need for care. Technology is a valuable tool as it enables healthcare providers to provide tailored services in an economically acceptable manner.

Nancy Rademaker: "Connect many and engage individuals"

Upcoming sessions

Two more inspiring sessions on 'New business models and finance' and 'The Great Care Debate' will follow. During these Thursday night sessions, innovators, visionaries and leaders will engage in a debate about important decisions, obstructions and opportunities. Sign up and participate! Top Sector LSH hopes to meet you there.