Communication
International collaboration and missions

Read in more detail on the latest international collaboration, events, and missions in life sciences and health.

"We started in 2013 and are now partnering with the second largest healthcare insurer in China!"

The Netherlands Institute for Healthcare and Wellbeing (NIHW) has the goal to improve the quality of life. For elderly care, this means that they provide Big Data solutions to assess the healthcare status and generate advise on care activities and budgets.

Only a couple of years ago, NIHW identified the need for supportive IT software for structured assessments in nursing homes. Boris Stam (Partner at NIHW): "For elderly patients It is often complex to determine the right cause of physical complaints or disorders. In most cases it turns out that there is a need for multidisciplinary care. Moreover, patients have more needs than their general practitioners are actually aware of through their normal practice. Many people with chronic illness or disability use a variety of clinical- and support services. This may occur simultaneously or sequentially. For example, individuals may use both mental health and personal assistance services at the same time or they may use community support, then transfer to hospital, and then again transfer to a post-acute care setting."

"NIHW makes use of an international big-data toolkit via questionnaires and corresponding calculations. The extracted results bring to light: the cause, a specification of the care needed and number of hours required."

By providing a complete overview, professionals gain insights and knowledge about their residents or patients. In addition to supporting all healthcare institutions, it simultaneously provides an objective outcome for healthcare insurance companies.


As mentioned, at the beginning NIHW interacted on a large scale with Dutch nursing homes and recognised the opportunity to develop supportive IT software. Their first version was immediately developed to offer multilingual functionality. Simultaneously we came across the Task Force Health Care (TFHC), saw the match with our international ambitions and joined the TFHC platform. "That same year we participated in an InterRAI convention in Canada and received a lot of interest as we displayed the newest software, best usability and highest number of calculations," says Stam.
By using the internationally validated instrument interRAI (Resident Assessment Instrument), an assessment of the health situation and wellbeing of an individual can be made. This instrument gives a more holistic perspective on the individual's situation and ultimately improves the quality of care and quality of life. The scientific organisation interRAI maintains the standards of these assessment forms and performs scientific research based on the outcomes. A result of this research is that more care sectors and individuals can be served with assessment tooling. NIHW's software enables professionals and individuals to perform assessments and use the outcomes in order to increase the quality of life.
Together with the TFHC NIHW participated in a variety of international activities. For example, this year (2016) NIHW welcomed an incoming visit from Sichuan, China. By invitation of the Dutch Ministry of Health, Welfare & Sports, TFHC organised a programme for the Chinese delegation meeting 7 Dutch healthcare organisations. "During this activity I came in contact with the Health and Family Planning Commission of Sichuan Province. They invited me to showcase our products to the 2nd largest Chinese healthcare insurer Ping An and we are now partnering in a pilot for the Level-2 cities in China with an average population of 8 million people per city."
"As we have been on the international market for only a couple of years we have received great support from the TFHC. The TFHC contributes by offering a helpful starting point when expanding to foreign markets. In addition, their extensive network of partners is of great value to us in exchanging experience regarding export issues, trade barriers & business opportunities," says Stam.

Focusing on the near future NIHW is concentrating on a new market closer to home. Stam: "At this moment, it is likely that we will expand our activities in Europe. Again during a TFHC meeting we were introduced to contacts in Germany and Spain. There we see the opportunity to add value to elderly care using our solutions."

Early stage innovation underpins positive outlook at BIO-Europe Spring 2017 in Barcelona

The eleventh annual BIO Europe Spring international partnering conference wrapped up in Barcelona, Spain this week with over 2,500 attendees representing executives from the life sciences who engaged in 15,070 one-to-one partnering meetings vying for 3,294 licensing opportunities on offer. The event welcomed 1,450 companies overall, including over 60 companies of the Netherlands. In addition the Dutch were represented with the Health~Holland Pavilion.

"We are very pleased at the success of BIO-Europe Spring in Barcelona as it reflects the energy and optimism in the international life science sector despite recent challenges," said Anna Chrisman, Group Managing Director, EBD Group. "We look forward to another great event in Amsterdam in 2018."

The opening plenary, 'Innovation in an uncertain world,' moderated by Alex Lash, National Biotechnology Editor of Xconomy, featured panelists Annie De Groot, CEO and CSO, EpiVax; Ji Li, Executive VP and Global Head of Business Development, BeiGene; and Kevin Sin, VP, Oncology Business Development, Genentech Partnering. The panel agreed that this is truly a time of tremendous technological change, and speculated about proposed NIH cuts and the unwelcoming political climate in the US and what it could mean for the next generation.


BIO Europe Spring turns orange

In Barcelona, the Netherlands was represented with an orange booth. Here, attendees were informed about the Dutch biotech climate with the updated Health~Holland branding. In line with previous years there was also a great booth reception. Next year, BIO-Europe Spring 2018 will be held in Amsterdam and is sponsored by HollandBIO. Jan Raaijmakers, Chairman of Top Sector Life Sciences & Health, said "Health~Holland actively stimulates, facilitates and supports partnerships to speed up innovation and boost solutions that improve health. We are most pleased to welcome BIO-Europe Spring 2018 to the Netherlands. Hosting this important partnering conference in Amsterdam not only reflects our leading position, it will gain momentum for further growth too."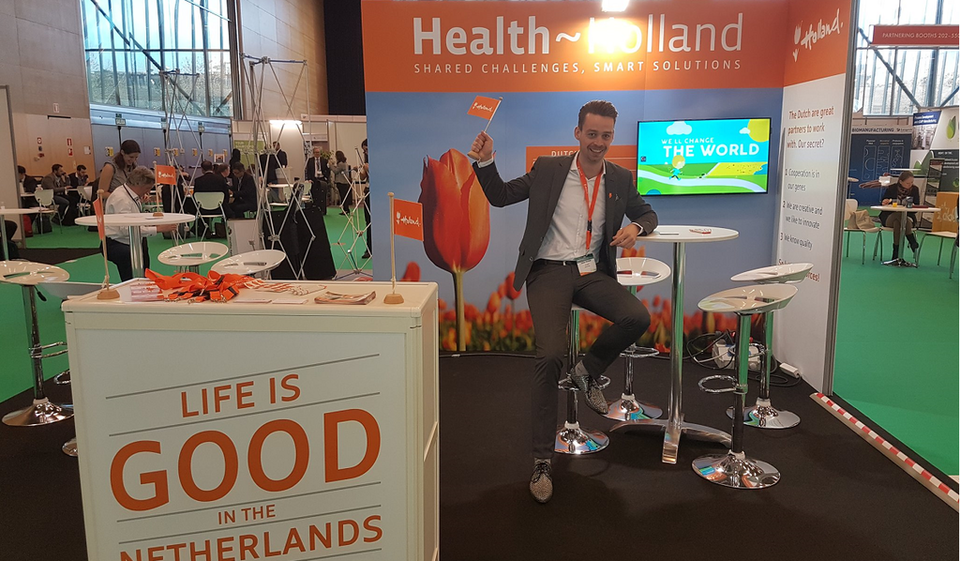 Many opportunities for foreign providers of healthcare solutions in the United Kingdom

The United Kingdom market has over 65 million healthcare dependents. Annually the UK spends more than £ 140 billion (9% of GDP) on healthcare. The National Health Service (NHS) is reorganising the healthcare system to anticipate a rapidly ageing population and rising healthcare costs.

This increases the need for innovative healthcare solutions, which improve the access, quality and affordability of care. NHS is the largest purchaser of medical equipment and on average spends approximately GBP 20 billion each year on products and services. The NHS operates through decentralised purchasing organisations and frameworks so that it can purchase healthcare resources at both the national and local level. Cities like Manchester have self-providence of healthcare budgets via 'Devolution Deals'. Elderly and social care is not provided by the NHS yet. However, private providers cater for this demand. The market share of private hospitals has rapidly.
expanded in recent years, due to long waiting lists, bed blocking and limited options in home care. These and other developments are offering more space and opportunities for foreign providers of healthcare solutions.

Therefore, the Task Force Health Care is cooperating with NBSO Manchester on a health mission to the United Kingdom for the Dutch Life Sciences & Health sector from 27 to 30 March. Please visit the website of the TFHC for the latest developments in the UK market.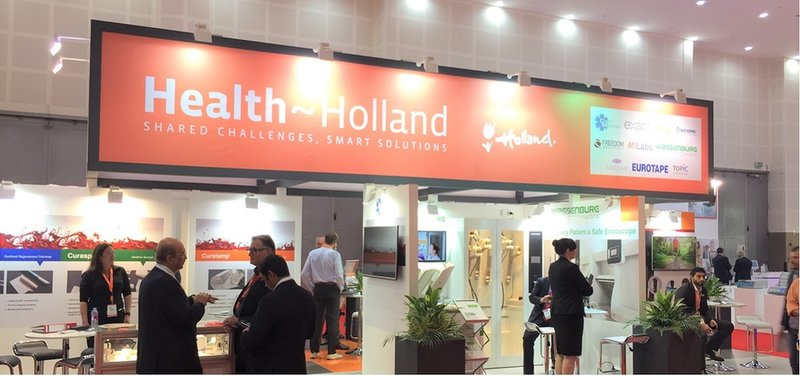 Visiting Arab Health - The success formula of the Netherlands in the Middle East

For the 6th time the Holland Pavilion was organised at Arab Health in Dubai. With ten participating Dutch companies the Holland Pavilion provided an excellent opportunity for international professionals to meet companies and experts from the Dutch Life Sciences & Health sector.

This year in addition to the well-known Holland Pavilion, located in the main hall, the Task Force Health Care and the Dutch consulate general in Dubai jointly organised several activities at the annual trade fair on life sciences and healthcare innovation. These were a crowded networking reception for all Dutch healthcare professionals present and a seminar on Healthy Living which featured a variety of speakers to further promote healthy living and discuss how to combat child obesity. Among others the Director General of Curative Care of the Ministry of Health, Welfare and Sport in the Netherlands, Mr Bas van den Dungen and a delegation from the Dubai Ministry of Health shared knowledge and best practice cases on preventive and curative care for children with obesity.

The United Arab Emirates is the fastest growing market in the region

The United Arab Emirates (UAE) is one of the largest healthcare markets in the Gulf Cooperation Council and it is also one of the best-organised and fastest growing markets in the region.


With a vision to develop a world-class healthcare infrastructure, the government of the UAE is expanding and upgrading the health system to match international standards. Today, lifestyle-related diseases such as diabetes, cancer and cardiovascular diseases predominate in the UAE. These diseases will primarily drive the healthcare sector in the coming years. Health Authority Abu Dhabi (HAAD) recently announced its five-year strategic plan aimed at improving the quality of care, reducing the capacity gap, recruiting and training staff, emergency preparedness, cost-effective health spending, eHealth and disease prevention. The healthcare market in the UAE has an expected average annual growth of 12.7% to USD 19.5 billion in 2020. In addition, 3% of the demand for hospital beds is expected annually from 2015 to rise to a demand of more than 13,800 in 2020.
From 3 to 7 April the Netherlands Enterprise Agency, the Ministry of Health, Welfare and Sport, and the Ministry of Foreign Affairs in cooperation with the Task Force Health Care will join forces on a healthcare mission to the UAE led by Minister Edith Schippers. For more information about the international healthcare mission please visit www.tfhc.nl.