Public Private partnerships

More examples on Public-Private Partnerships
Some detailed examples of public-private partnerships of the last period to get inspired by.


NADP takes the next step towards new antibiotics and alternatives
Within the Netherlands Antibiotic Development Platform (NADP), knowledge institutions and the business community will work together to develop new antibiotics and alternatives. The core mission of NADP is to bring companies and research groups together to accelerate research into the development of new antibiotics and alternatives to antibiotics. NADP will thereby focus on organisations that work on the treatment and prevention of bacterial infections in humans and animals. A new public-private research programme by the Netherlands Organisation for Scientific Research (NWO) domain Applied and Technical Sciences (NWO TTW) will support these developments.

With the increase in antibiotics resistance, bacterial infections pose an ever-growing threat to the health of humans and animals. Every year, thousands of people die worldwide due to antibiotics resistance, and that number will only grow if no new solutions for the treatment and prevention of bacterial infections are developed.
Partnership platform

NADP facilitates partnerships between companies and research groups working on the development of new antibiotics, both in the form of new molecules and pre-clinical development, as well as alternatives to antibiotics, such as vaccines. The NADP partners are the Netherlands Centre for One Health (NCOH) in Utrecht, the Centre for Antimicrobial Research (CARES) in Leiden, the Center for Sustainable Antimicrobials (CeSAM) in Groningen, and Immuno Valley in Utrecht. The independent Chairman of NADP is Kees de Joncheere, former Director Department of Essential Medicines and Health Products at the World Health Organization.
Since 2016, research groups in the Netherlands collaborate in the field of antimicrobial resistance, new antibiotics, and alternatives as part of the NCOH Strategic Research Theme 'Tackling Antimicrobial Resistance'. NADP strives to bring these groups together with the business community to accelerate the development of these new antibiotics and alternatives.


NWO TTW research programme

A research programme by the NWO TTW will support the acceleration of the development of new antibiotics and alternatives. The Ministry of Public Health, Welfare and Sport, the NWO, and the Topsector Chemistry have made approximately 6 million Euros available for this programme. The NWO TTW programme is expected to open this call for public-private project proposals in late April 2017.

Kickoff

On 18 April 2017, NADP will officially be launched at a kick-off event with a matchmaking session in Utrecht. The goal of the matchmaking session is to bring potential partners together for new project applications, including those for the NWO TTW call, which will be presented in a plenary session as part of the programme. For more information about NADP and the launch event, please visit nadp.nl.


NADP background

NADP was founded by the partners with the support of the Ministry of Public Health, Welfare, and Sport and the Topsector Life Sciences & Health, after consultations with companies and knowledge institutions working in the field of antimicrobial resistance. The results of these consultations, conducted by InnoTact Consulting and concluded with a final report to the Ministry, were used to bring together the NADP partners and to draw up plans of action for NADP.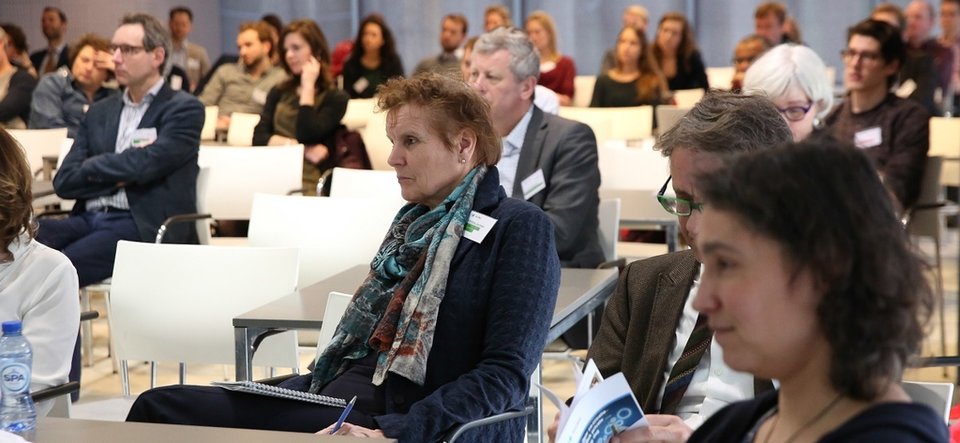 Successful PPP day: innovation through co-creation

A great turnout on this national public private partnership event


On 7 March, ZonMw organised the second public-private partnership (PPP) day in Utrecht in collaboration with Health~Holland. This year's event was entitled 'Innovation through co-creation' and brought together over 300 people from research organisations, companies, health foundations and government. The day brought a highly various programme containing sessions about best practices, Health Technology Assessments, patient participation, PPP Allowance and much more.
The event further included information about all current calls on PPPs by ZonMw and Health Foundation. Henk Smit (Director of ZonMw) and Marlouke Durville (Director Core Processes and Legal Affairs of the Netherlands Enterprise Agency) signed a covenant between the two organisations to underline their further collaboration and to achieve more SME involvement. Eline Slagboom (DuSRa) creatively performed a song about elderly care during the break.


Health~Holland morning session on national PPP initiatives

The morning started with an inspiration and information session for all large national PPP initiatives organised by the Top Sector Life Sciences & Health. During this get-together Marianne van der Steen (RegMed XB), Peter Sterk (National Lung Programme) and Angus Livingstone (Oncode Institute) gave inspiring talks about how to set up such a large, nationally supported initiative and which stakeholders should be taken into account. They all shared their lessons learned during this process and gave open advice to all particpants. Although every initiative is different in set up, goals and organisation, sharing knowledge about the realisation of large consortia can be very valuable for the innovative position of the Netherlands.
According to Nico van Meeteren (Executive Director of Top Sector LSH) the meetings during the day were inspiring: "It is all about making connections, facilitating those connections and inspiring each other. Public and private partners make that happen on their own, but this event provides a perfect podium for that."

The day was festively drawn to a close with the award of the IMDI talent prize to a talented student. The jury handed this year's prize to Ida Poortinga, for her development of a software application that enables hand therapeutics and patients to design a finger splint. The digital design can be sent to a company to be 3D printed.

Watch the video below to hear more on the value of public private partnerships.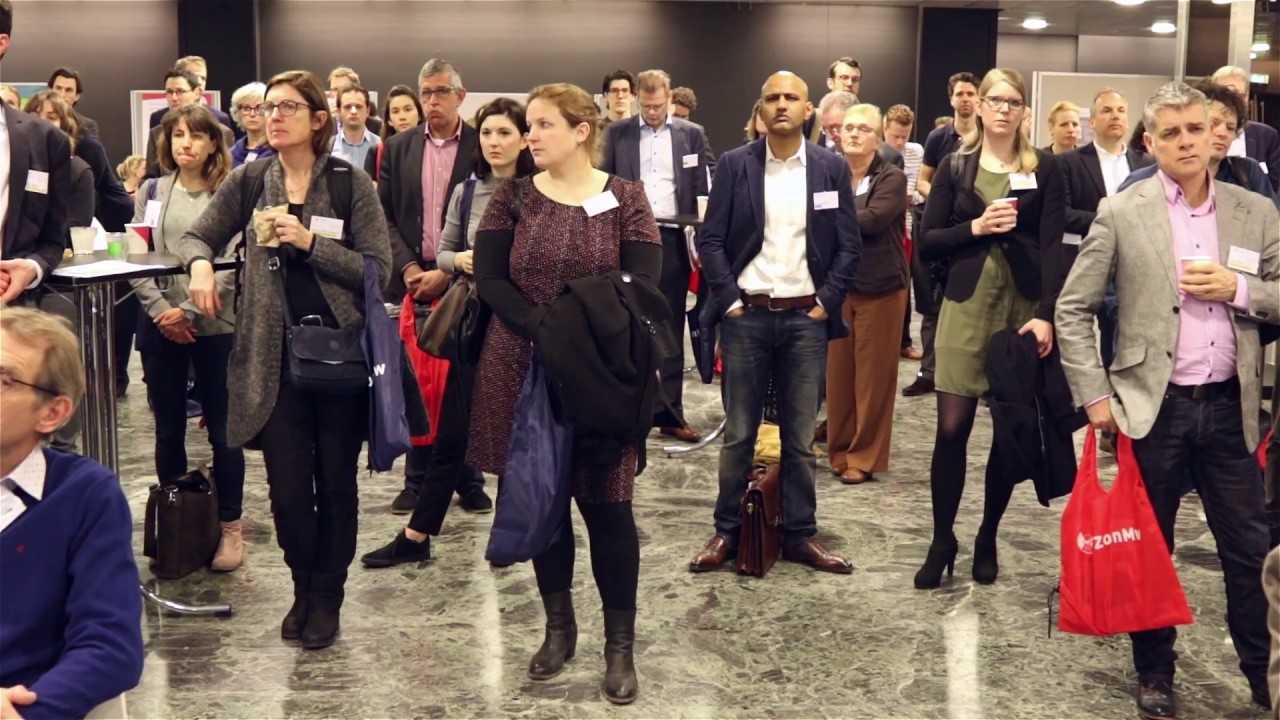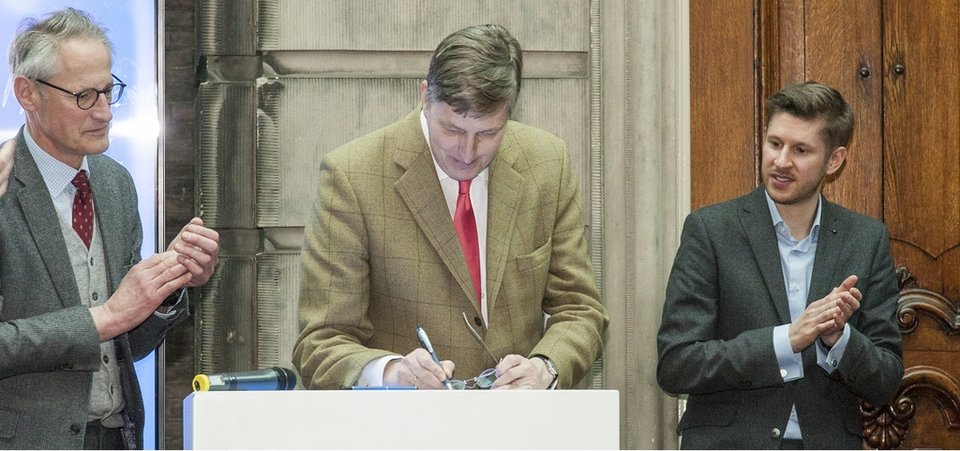 Open science becoming reality

Within three years, open science should be standard in the European Union The motto here is "as open as possible, as closed as necessary". To realise this, ten Dutch organisations took the lead by offering the National Plan Open Science to the State Secretary for Education, Culture and Science on 9 February 2017.

"Open Science represents a new approach to the scientific process based on cooperative work and new ways of disseminating knowledge by using digital technologies and new collaborative tools. The idea captures a systemic change to the way science and research have been carried out for the last fifty years: shifting from the standard practices of publishing research results in scientific publications towards sharing and using all available knowledge at an earlier stage in the research process." (European Commission, n.d.)

The ten organisations - VSNU, KNAW, NWO, VH, KB, SURF, NFU, ZonMw, PNN and GO FAIR – are giving a clear signal: open science will become a reality in the Netherlands. The ambition is to realise 100% open access of scientific publications in 2020. To achieve this, universities will have to further negotiate with scientific publishers, with whom they have already had several successes during the last two years. Furthermore, open science contributes to an optimal (re)use of research data in all research areas. These data will be provided under well-defined conditions and following the FAIR (findable, accessible, interoperable and reusable) principles . Finally, the National Platform Open Science will investigate how open science can be combined with the recognition of and rewards for researchers, research groups and proposals.

Pancras Hogendoorn (Netherlands Federation of University Medical Centres): "Through the national Health-RI initiative, the NFU stimulates interdisciplinary and responsible use and re-use of (health) data, thereby contributing to open science for biomedical research, such as regenerative medicine, as well as to prevention and personalised medicine & health."

Read the National Open Science Plan here or visit the website to follow the latest developments.


Philips launches Azurion worldwide

Developed in collaboration with leading hospitals worldwide, Philips Azurion is an innovative image-guided therapy platform that allows clinicians to easily and confidently perform a wide range of procedures


Royal Philips, a leader in health technology, announced the global launch of Azurion, its next generation image-guided therapy (IGT) platform that integrates advanced interventional tools into one clinician platform. Combining advancements in vascular surgery, interventional cardiology, oncology and neuroradiology, Azurion provides procedure cards that allow clinicians to pre-program routine tasks and user preferences while state-of-the-art ergonomic design and an intuitive user interface lets clinicians swiftly and confidently perform a wide range of routine and complex procedures in the interventional lab.

"As a leader in image-guided therapy, we have been driving continuous innovation to address rising patient volumes and increased procedure complexity," said Bert van Meurs, Business Leader Image Guided Therapy at Philips.

Azurion is the result of a multi-year development program conducted in collaboration with leading clinicians in the field to acknowledge that with the rapid growth of image-guided therapy procedures, hospitals and health systems are increasingly faced with the need to control costs while improving their standards of care. Azurion has been designed to address these challenges and is equipped with new workflow options and performance dashboards, as well as an upcoming range of productivity improvement services.
The Azurion platform features over 1,000 new components, including an enhanced flat-panel detector and Philips' newly developed ConnectOS operating system for the seamless integration of real-time information from all relevant technologies in the interventional lab. All of these components work together to deliver high image quality at ultra-low radiation exposure and real-time image processing on multiple work spots within the interventional lab. Parallel working enables the team of clinicians to complete different tasks simultaneously, saving valuable time without compromising quality of care.

"With the launch of our new Azurion platform, which was designed to optimize system integration and lab performance, we can deliver new turnkey solutions that support our customers in maintaining high standards of quality and patient care at predictable costs."