Agenda
Meet us at Innovation for Health

The fourth edition of Innovation for Health is coming closer. This biggest Life Sciences and Health conference in the Netherlands provides the ultimate opportunity to meet key players in this sector and catch up on the latest trends and innovations. We are proud to announce that Top Sector LSH is main partner and Top Team Member Hans Schikan is chairman of this inspirational event where professionals from bench to boardroom and start-up to multinational can meet and exchange views.

The Dutch are known for their collaboration and networking skills. Sharing knowledge and innovation is also demonstrated in an increasing number of public private partnerships in the Life Sciences and Health sector. Recently, large consortia were launched in the fields of oncology and regenerative medicine, where knowledge institutes and companies, often SMEs,
work together supported by the government. These 'triple helix' partnerships focus on innovation and subsequent valorisation. Through public-private partnerships innovation in new treatment paradigms, novel medicines and diagnostics, and new interventions can be realized.

Innovation for Health is an excellent way to connect with people who are committed to Life Sciences and Health. Being there will allow you to start or extend collaborations and to broaden your network, thanks to the many speaker sessions, innovation pitches, one-on-one meetings and corridor conversations. We welcome all regional and national and international attendees with a passion for Life Sciences and Health to participate and shape the future of healthcare together. Make use of the Health~Holland vouchercode (HH20170216) that provides 50 euros discount! We hope to see you there.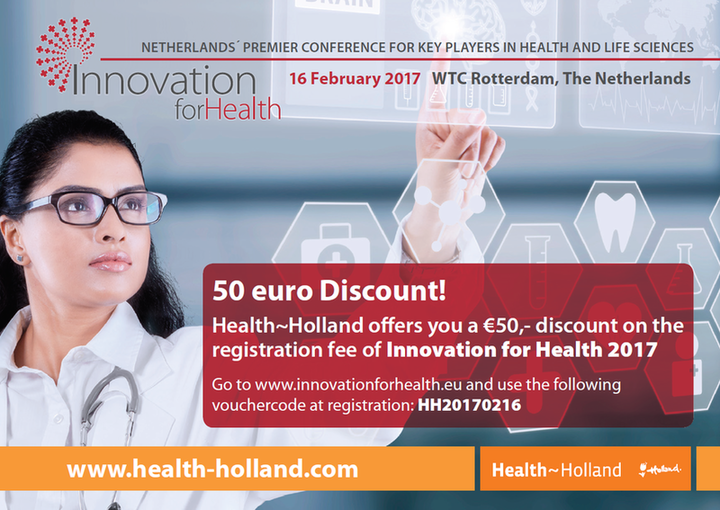 Some speakers of the plenary programme
Sander Klous (KPMG & UvA) – David Pappie (Ministry of Economic Affairs) – Rudi Pauwels (BioCartis) – Hans Schikan (Top Sector LSH) – Daniël de Boer (ProQr) – Anne Flierman (IMDI)