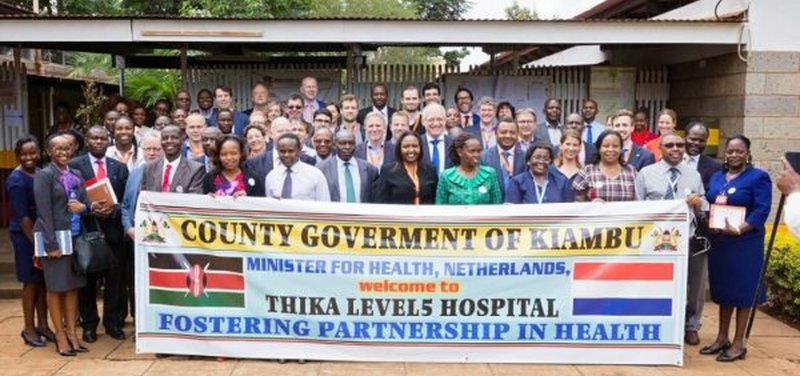 A three-day visit to Kenya in search of partnerships & investments

A Dutch healthcare business delegation of about 20 companies visited Nairobi, Kenya from 18 to 21 April 2017, in search of partnerships and investment opportunities in the Kenyan health sector.

This three-day trade mission was meant to deepen knowledge and opportunities for Dutch companies in the Kenyan life sciences and health sector in line with the "Aid to Trade" agenda of the Dutch government. Based on a market study by the Embassy, the Netherlands has identified the health sector in Kenya as a promising market fo r partnerships and business opportunities. The economic relations between the two are strong; the Netherlands being the third largest export destination of Kenyan products. In the health sector, the relations between the two countries go back a long way.

Strengthened cooperation between public and private parties is crucial to achieve universal health care coverage and Sustainable Development Goals 3. The Dutch government is planning to support the Kenyan government by facilitating cooperation with the private sector regarding primary healthcare, in the framework of the SDG Platform set up by the UN in Kenya. According to the Euro Health Consumer Index, the Netherlands has the best healthcare system in Europe for the seventh year in a row.
The Kenyan healthcare sector is experiencing exiting times partly due to a growing middle class population, which has caused a hugely increased demand for quality accessible healthcare services. However, Kenya's health sector faces enormous deficiencies in coverage and infrastructure. It is estimated that 32.5 million Kenyans lack any form of basic insurance and are treated in sub-standard facilities. The Dutch delegation consisted of health companies, ranging from, among others, expertise in hospital construction, medical devices, and health financing solutions to training & education.
For more information on the visit programme visit the TFHC website.

Gathering the biotech sector at Knowledge fo
r Growth

The impact of large data generation on R&D and business in life sciences was the central theme this year at the life sciences conference Knowledge for Growth, organised by Flandersbio on 18 May 2017 in Ghent, Belgium.

This high-level networking event attracted decision makers from biotech, pharma and medtech as well as investors, universities, top notch research institutes, policymakers and competence providers. Over 1250 delegates from 23 countries attended an exciting programme, which provided vital insights into the global life sciences' landscape, B2B partnering, a trade fair with 100 exhibitors, and a scientific poster area.

As CEO argenx Tim Van Hauwermeiren commented; "Knowledge for growth offers a very attractive scene for a biotech entrepreneur to meet high quality contacts, in an informal way, as all stakeholders from the vibrant biotech cluster are represented."
Put 17 May 2018 in your agenda as the next opportunity to be inspired at this annual event.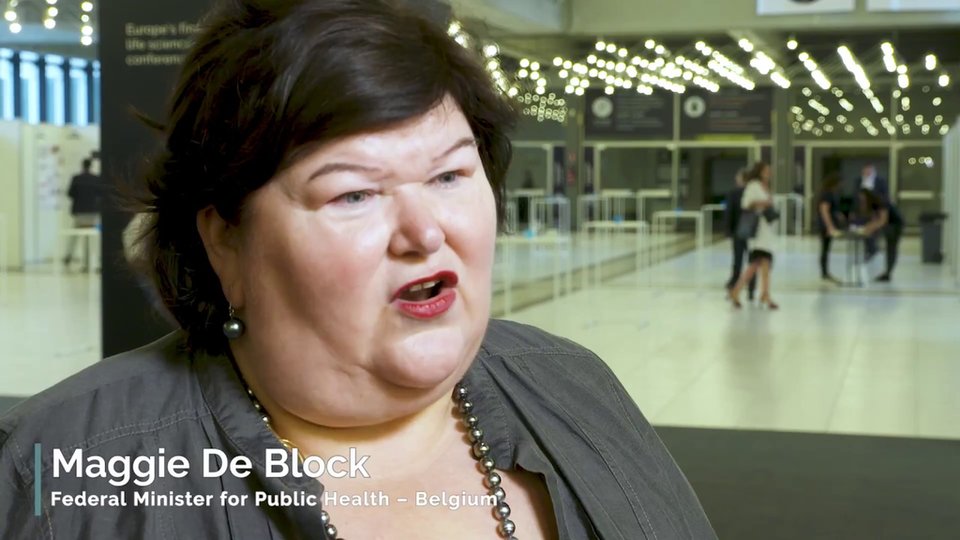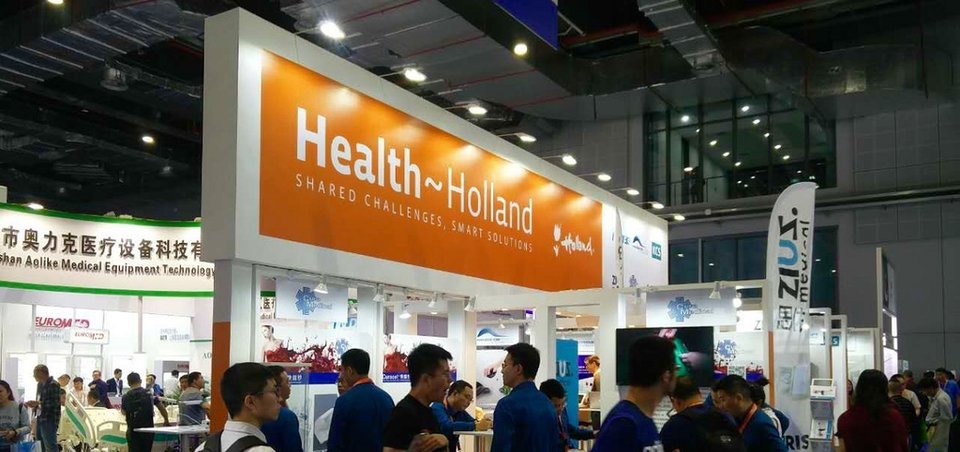 Dutch presence at the China Medical Equipment Fair 2017

At the large and busy China Medical Equipment Fair (CMEF), the Holland Pavilion offered a unique and professional stand with excellent opportunities for the six Dutch exhibitors to showcase their products, services and receive international guests. This way the Netherlands was, once again, guaranteed to stand out from the crowd at this huge fair!

Almost 4,000 medical device manufacturers from over 24 countries, and about 120,000 visitors and buyers who are government procurement agencies, hospital buyers and dealers from over 100 countries and regions gathered for trading and exchanges. For this reason, the CMEF has become the largest professional procurement and trade platform of the medical industry, the best corporate image release ground as well as a professional information distributing centre and an academic and technical exchange platform.
Would you like to know more about this Holland Pavilion at the CMEF? Please contact the Task Force Health Care via jennifer.schrage@tfhc.nl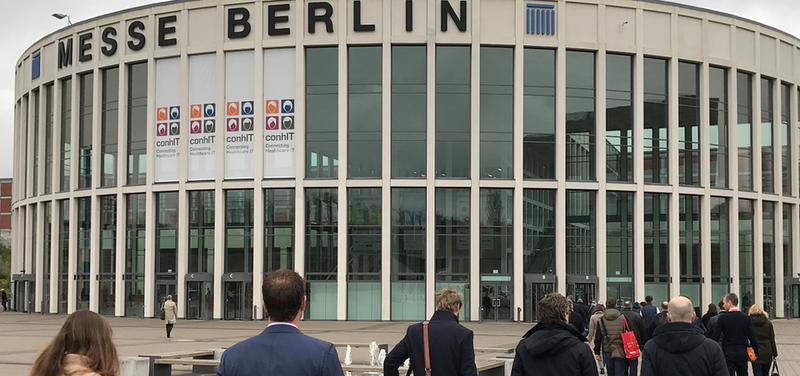 Exploring eHealth opportunities at the most prominent health IT event in Europe

With more than 80 million inhabitants, Germany is the largest healthcare market in the European Union. Ideally located to the east of the Netherlands, it is no surprise that Germany is the number one export destination for Dutch businesses and a great market for companies to start their export activities as well as to further build on already existing activities. Germany shares a number of health challenges with the Netherlands, for example: An ageing population, rising costs of healthcare and a need to quickly and securely share medical information between healthcare providers and patients. As Germany is a large country, eHealth solutions also provide a possible answer to healthcare delivery in rural and structurally weak areas.

To anticipate on possible business opportunities the Task Force Health Care (TFHC), in cooperation with the Netherlands Business Support Office (NBSO) Stuttgart, organised a visitor programme to and during the ConhIT trade fair in Berlin from 24 to 26 April. A Dutch delegation consisting of 15 organisations enjoyed a tailor made visitor programme, which gave a great insight in the German eHealth market in a short period of time and brought the delegation into contact with relevant partners. Alongside their attendance at the ConhIT the delegation visited, among others, the German Ministry of Health and the Alexianer St. Hedwig-Hospital. For more information on activities in Germany click here.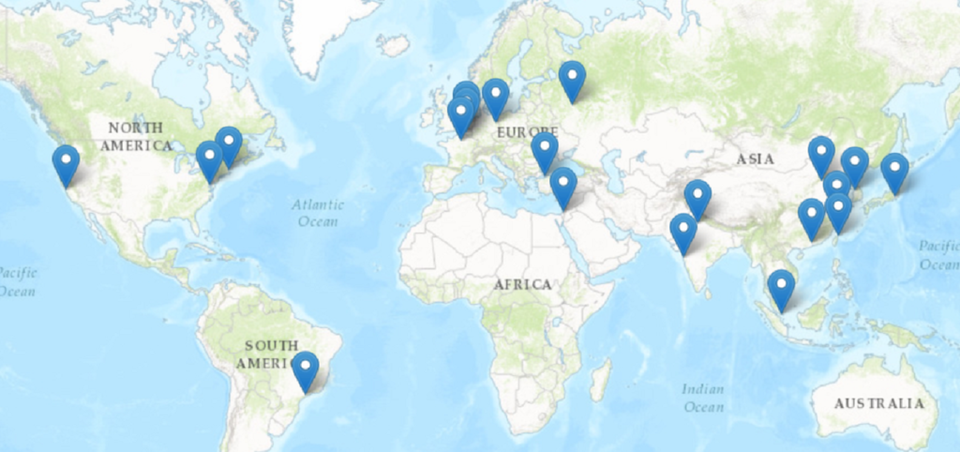 New faces at Innovation Attaché Network

Innovation attachés are based at Dutch embassies and consulates and they help companies or institutions to innovate across borders.


The Holland Innovation Network (Innovation Attaché Netwerk) supports the internationalisation of Dutch R&D in the triple helix of government, companies and universities or research institutes. The Innovation Advisors are the liaison between science and technology landscapes in the Netherlands and other countries.
Two new attachés started this month. First, Wilco Schuttelaar is going to Sweden to the Dutch embassy in Stockholm. Over the past few years he founded Zorginnovatie.nl and health innovation will still be an important subject for him in Sweden. Second, Martijn Verwegen who worked as a policy officer at NWO, will now become innovation adviser at the Dutch embassy in London.
There are also some other moves within the attaché network: Bart Sattler is going to Berlin, Petra Smits to Sao Paulo and Nico Schiettekatte to Paris.

Feel free to contact them (www.ianetwerk.nl) with your questions about international innovation!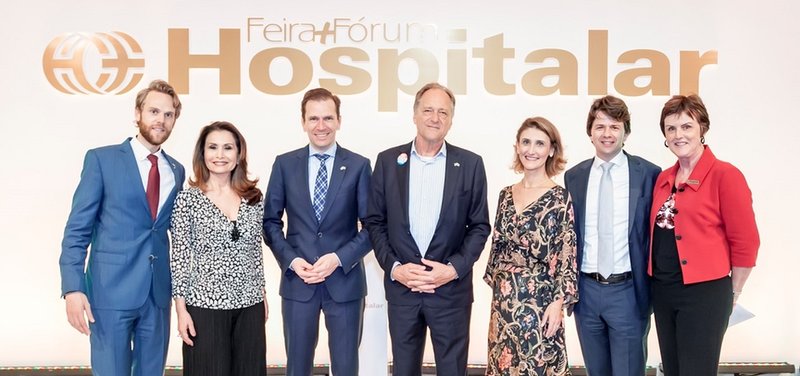 Guest country a
t the Hospitalar 2017

Brazil, with its 205 million inhabitants, is the largest healthcare market in Latin America, the third largest private healthcare market worldwide and the seventh largest economy in the world.
The country is experiencing major societal challenges such as a rapidly ageing society, an increase in chronic and lifestyle diseases, and an adaptation of the health system to secure a sustainable financial future. In the innovative state of São Paulo, there are high-quality private and public hospitals such as the Albert Einstein Hospital and Hospital das Clinicas (HC). Moreover 38% of all LSH companies are established in this region.
All in all, enough reasons for the Task Force Health Care (TFHC), in cooperation with the Dutch Consulate General in São Paulo, the Netherlands Enterprise Agency, the Ministry of Health, Welfare & Sport, the Ministry of Foreign Affairs, the Ministry Education, Culture and Science, and the Ministry Economic Affairs to organise a trade mission to Brazil. From 15 to 20 May, a Dutch delegation consisting of 26 organisations

was present. This unique mission provided the Dutch multiple opportunities to come into contact with business partners and relevant care parties in Brazil. A large number of private and public (university) hospitals, care-related projects and government agencies were visited.
In addition, collective meetings were held with healthcare institutions, such as FAPESP (São Paulo Research Foundation) and ABIMO (Brazilian Association for Medical Equipment, etc.). All these activities were scheduled around the largest healthcare event of Latin America; Hospitalar 2017. The Netherlands had the honour of being the official guest country and situate its grand Holland Pavilion between the major hospitals at the most prominent place of the trade fair.
For more information on healthcare related activities in Latin America click here.

International attention to the Dutch health care system, policy and management positively affects universities

An interview with Prof. Joris van de Klundert (iBMG) on the international activities

In The Netherlands we enjoy a progressive health care system which provides us with high quality care. Obviously designed in a very Dutch manner and thus deeply anchored within public organisations. This has resulted in international admiration and enthusiasm, however due to the method of financing many Dutch public organisations have no urge to be active on a global scale. Their funding is intended for domestic business, which makes the export of knowledge and expertise very difficult.

On the contrary, universities often do have a business model which makes it easier to interact on cross border opportunities. One of which is the Institute of Health Policy & Management (iBMG), Erasmus University Rotterdam, which is closely linked with the Erasmus Medical Centre. iBMG is involved in national and international research in the fields of health policy and management and covers a wide variety of disciplines, ranging from health economics to social medical sciences, health law goverance, and management. It offers a wide range of English spoken education programmes, among which 4 full time Master of Science programmes, an MBA, and a PhD programme. Altogether it hosts over 400 graduate students.
TFHC Partner since 2014 Prof. Joris van de Klundert (Chair Department Management & Organisation of Health Services at iBMG) elaborates: "The international attention to the Dutch health care system, policy and management provides strategic opportunities for universities. Also, as universities increasingly position their education and research internationally and research funding is also increasingly international."
Equipped with a global view iBMG came into contact with the Task Force Health Care (TFHC) by joining one of their trade missions. Prof. Van de Klundert: "TFHC trade missions are a perfect way to maintain and strengthen our current international partnerships. In just one week you will meet a high number of relevant professionals and organisations. Furthermore, they are also suitable to explore new markets. For example, we recently (Nov. 2016) travelled to Colombia under the guidance of the TFHC. We met potential academic and governmental partners and are now starting up in Latin America. As a direct result of the mission, we have now a pilot project for capacity building in integrated rural care in Colombia."

On the other side of the globe, in China, iBMG has several projects running. Due to Chinese healthcare policy reforms the growing prosperity among the middle class increases the demand for care and recent reforms of the health insurance system provided improved access. However, the large differences between urban and rural areas still form a striking and painful contrast. As a result, the World Bank and the British Department for International Development (DFID) provided a contribution of $ 60M for improving rural health care in the so-called China Rural Health Care Program (CRHC). In 2013, iBMG was approached by the World Bank to execute an independent international evaluation in the field of the implementation of clinical pathways, the integration of first and second-line, and the manner in which performance-based evaluation is implemented. iBMG's participation embodied a pilot of 24 million people.
Prof. Van de Klundert: "Our two-year contribution to this project has been rated as very successful and as a result, we are launching a spin-off project upcoming summer, which does not only include evaluation but will also include our involvement in the design of the interventions and the research. We are very delighted with this result. In general, as a progressive organisation we can serve an important role in the international exchange of Dutch knowledge and expertise. And I sincerely hope that we, together with other Dutch organisations, find new ways to share the wonderful elements of the Dutch healthcare system worldwide."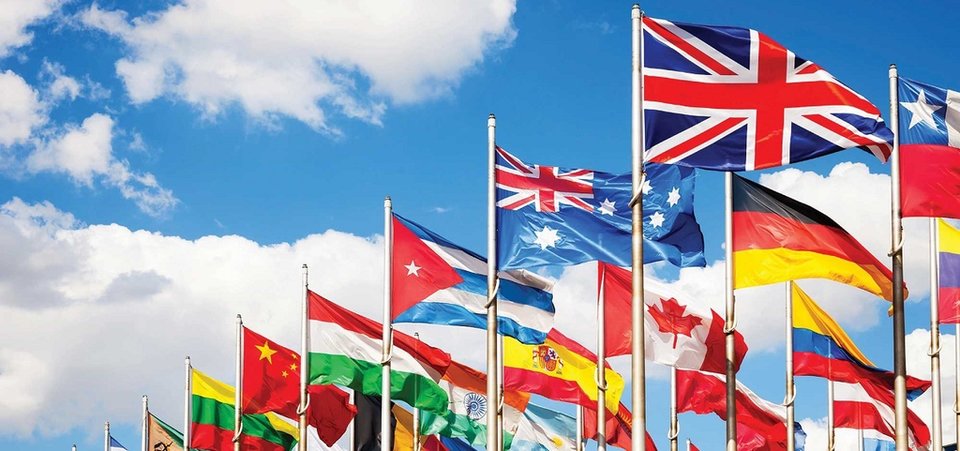 Invite your international guests to the Netherlands!

Task Force Health Care is organising the 'International Visitors Programme 2017' (26 to 29 September) for decision-makers in international, national, regional and local healthcare. The programme is particularly aimed at those who want to learn more about healthcare in the Netherlands and related solutions.

The International Visitors Programme allows decision-makers in healthcare to visit and share knowledge with health stakeholders in the Netherlands. Visitors enjoy the opportunity to meet like-minded professionals who share the same passion and face similar challenges in healthcare. Compare policies and procedures, structures, solutions and opportunities for partnerships to foster improvement.

For more information click here.