Agenda - Past events

Past Events in the LSH sector

Read more about various events in the sector.

Dutch Biotech Event: passionate biotech champions lead by example

The Dutch Biotech Event, last Friday in Maarssen, was a big success. Nearly 190 biotech professionals gathered to be inspired by leading biotech entrepreneurs, to meet peers and experts and to upgrade their professional skills during hands-on workshops.

Annemiek Verkamman, director HollandBIO: "Let's tell the world how you are all working to improve our health and contibute to a sustainable world."

MAINSTAGE

WELCOME - ANNEMIEK VERKAMMAN
HollandBIO's Annemiek Verkamman kicked off the Dutch Biotech Event. Our sector lives up to its promise, delivering products that contribute to our health and a sustainable world. However, the sector faces numerous challenges as well: we need to develop our products faster, and better. Annemiek invited the audience to come up with solutions as innovative as the sector's products to do just that.

KEYNOTE – RUSSELL GREIG
Biotech veteran Russell Greig has seen it all: while at SR One, GSK's corporate venture group, he and his team assessed hundreds of business propositions a year. How to interact with the FDA? How to put the patient first in every department of a company? How to deal with cultural differences? Russell showed the audience the ropes, and as a bonus, he enlightened the many entrepreneurs looking for funding on how to deliver the perfect pitch. In conclusion, Russell managed to compress the lessons learned during a lifelong biotech career into an amazing, 20-minute story.

VENTURE CHALLENGE WINNER 2017
Director at LifeSciences@Work Chrétien Herben, announced the winner of the Venture Challenge 2017 spring edition: X-Heal Diagnostic.

KEYNOTE – SANDER VAN DEVENTER
Forbion's Sander van Deventer passionately called in the help of the sector to halt the 'fake news' making headlines in the media. The exploding expenditure on medicines putting our health system under pressure: nonsense! The overall expenditure on medicines are and have been stable for years. The limited effectiveness of new cancer therapies: nonsense! Check the tail effect: long term survival rates of responders will tell a completely different story. Producing DIY-medicines at the pharmacy: nonsense! Who would take a lone aerospace professor seriously claiming to build a space shuttle in his back yard at a fraction of NASA's costs? Instead, we should boost the sector's innovative power, by including meaningful outcomes, healthcare system benefits, patient experiences and societal value into drug development.


MEET-THE-EXPERT & WORKSHOPS

With two rounds of parallel workshops and the opportunity to consult an expert of choice, the afternoon offered something for everyone.

WORKSHOP - How to close a deal
Guided by AM-Pharma CEO Erik van den Berg, Pieter Gaillard (founding father of 2-BBB) and Paul van der Horst (Director Business Development and Investor Relations at Galapagos) shared their tips and tricks on closing a deal in pharma. "Even if you have a great product, the marge between a successful deal and failure is very thin", Paul commented, "so maintain your rights upon termination". Both role models stressed the importance of trust and investing time in a relationship with a potential partner. Yet there is also an urgency to act fast.
In order to involve senior management early on, bring two emotions to the center that no potential partner can ignore: greed and FOMO (fear of missing out). To make the most out of your deal Pieter concludes "being creative sometimes makes the (celebratory) cake bigger".


WORKSHOP - Strategies for Growth
In an interactive session chaired by Xendo CEO André van de Sande, Marion Blomenröhr of Synthon and Lex Bakker of Merus shared their companies' success factors. While it is a no-brainer that the main focus should be on the best science and products, several other aspects are of importance too: establishing a clear but flexible business strategy, securing solid financing, being critical at your own work, building a strong network and employing a great workforce were some of the key succes factors discussed.

WORKSHOP - Presenting for impact
During the workshop Presenting for Impact, Jos Joore and Marco Rochette (Spreekmeesters) enlightened the enthusiast audience on how to deliver an empowering presentation. The participants were set to work and were invited to put the learnings into practice. Their confidence boosted with valuable tricks and tips, all attendees left the workshop in great spirits to enjoy the subsequent drinks and BBQ.

WORKSHOP - Success is a yellow Ferrari
Followed by previous year's success, Harry Bloemink once more took the audience on a journey of personal goals and dreams and entrepreneurial success. His first message: get your focus right. A negative focus never works. "Google 'I don't want to see spiders' and guess what Google shows?" Focus on the positive instead. Madonna always said she wanted to be a singer. In her words: "Most people never get what they want, because they never tell what they want." People love to be part of a goal and will be glad to help you, as your ambassador. During the interactive session Harry brought up many personal goals for discussion, from running the marathon, to buying a car. His second message: bring your goals with flair and don't destroy your message with the Charlie Brown Effect. Fully energized, the audience was ready for sharing its dreams with colleagues during drinks and BBQ.

MEET THE EXPERT and MEET THE NEXT BIOTECH HERO
Experts from legal to consulting and from business development to financing shared there expertise in 30 minutes sessions with the participants. During the Meet the next biotech hero, six young biotech entrepreneurs presented their companies in a 5 minutes pitch. A wonderful opportunity to learn more from biotech champions of today and tomorrow!
The beers and BBQ at the end of the event offered plenty of opportunity to talk on, share insights and to network. HollandBIO are already looking forward to next year's edition!

Photography: Nils van Houts

Eight lessons on how to incorporate patients from PatientTOP

How to involve patients during the innovation process?

During the PatientTOP on 11 April, healthcare providers, patients, entrepreneurs, researchers and policy makers opened a dialogue about patient-included innovation. This led to inspiration, deeper understanding and lots of discussions. Finally Zorg voor Innoveren yielded eight lessons learned on how to involve patients in the innovation process.

Inspirational plenary opening

In his enthusiastic opening speech, executive chair Johan Melse asked the visitors when they last did something new and the last time they had a patient experience. Uproar erupted; the launch of a day full of involvement and interaction.
Margriet Crezee shared her story about All of Me, an initiative that focuses on adolescents with a chronic disease. The whole project is about co-creation, reflecting alongside the adolescents on how this group can receive the correct information and support. In All of Me the involvement of the working field, partners and end users is vital for finding the correct form to create something.
The subsequent Open Space, where all participants could write their frustrations and tips for others on flap-overs, initiated interesting dialogues about working methods, government policies and other recognizable issues. Nonetheless, many interesting tips were written down, like 'invest in new collaboration systems with experiential experts' and 'look at the man in his entirety and not solely at the patient'.


Various subsessions on innovations and patient participation

Following this programme section more sessions took place, where experiences and valuable lessons were shared. For example, Sytske van Bruggen and Karin Busch spoke on behalf of Protocol Los, a project to stimulate patients to take control of their own healthcare. However, this also calls for a different approach from the healthcare providers. They feel supported, but must also have faith in their knowledge and experience to embrace the new working method.
Respiratory therapist Ruud van der Wel developed the Magic Floot and GroovTube, electronic wind instruments that enable children with a muscular disease to enjoy therapy. "If children enjoy going to therapy more then my mission is accomplished."

The need of the customer is the starting point for Bol.com. Hence not: we have a top-loader with a brushless engine for you! But: do you have a large family with many athletes? Then this washing machine suits you the most! Maartje Geerts Ward van Loon showed how Bol.com cleverly utilises data customers leave behind on their platform while shopping. By translating buy and click behaviour to needs, you gain insight in what customers are searching for and how you can best meet their question.
eHealth has become ubiquitous, as Chandra Verstappen of Pharos emphasises. However she points out that individuals with a low educational level, inadequate health literacy or a migrant background often have a low capacity to find, understand and apply information on websites and apps due to problems with reading and writing. Her tip: involve as the patient/end user different patients and different types of patients, from individuals with a low level of health literacy to individuals with high levels of education.


Fun-fun-fun

After the TOP director 'Innovatie en Zorgvernieuwing' of the Ministry of Health, Welfare and Sport Gelle Klein Ikkink told his most important lesson of the day. "I read on one of the flap-overs: fun, fun, fun. This is also how I experienced today. It is inspiring and enjoyable to develop and design along with patients, healthcare providers and innovators. At the same time, fun is the beginning of the word fundamental, and that's the movement we now see. The relation between healthcare provider and patient is changing in an equal relationship in which patients are involved in all innovations from the very beginning."


Learned lessons during the PatientTOP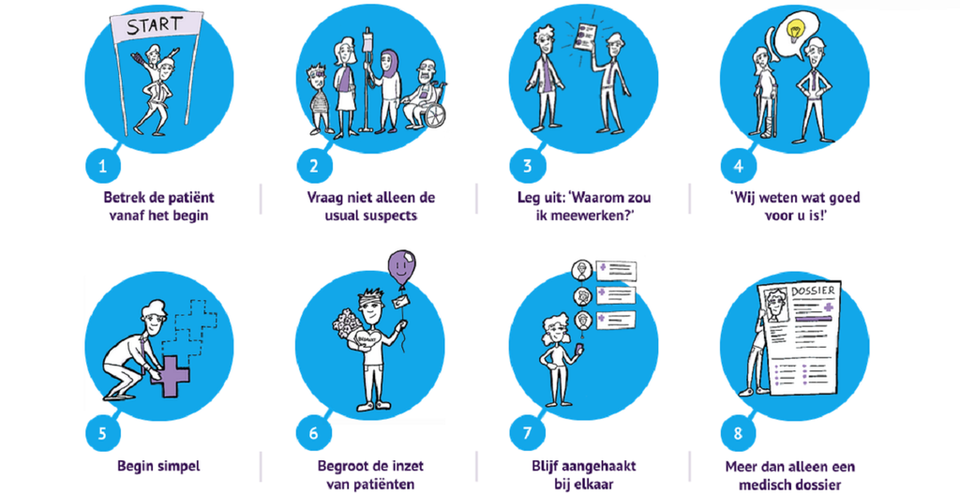 Annual Health~Holland Regional Meeting

Strengthening national and regional collaboration in Life Sciences & Health.

On Wednesday 31 May, the third Health~Holland Regional Meeting took place in Utrecht. Around 50 attendees joined the Top Sector LSH at the meeting which aims to discuss national and regional collaboration and the role of Top Sector LSH in facilitating this.

Nico van Meeteren, Executive Director Top Sector LSH: "The investments and number of success in the Dutch LSH-regions – from the North to the South – increased again in 2016!"

The executive director of the Top Sector, Nico van Meeteren, started the meeting with a review of Top Sector LSH's activities over the past year. This gave the regional organisations an insight into the developments and opportunities for industry and the knowledge institutions. Next Chrétien Herben, valorisation manager of Top Sector LSH, gave a presentation on how the Top Sector LSH facilitates a collaboration between various educational and coaching programmes in the sector via the Business Education Roadmap.
Theo Föllings, Vice President at Oost NV, elaborated on the manifesto entitled the 'National revenue and the crucial role of regions'. This takes a closer look at the business climate and ecosystems and how national revenue can best be facilitated. Föllings emphasised the Regional Economic Acceleration Agendas and he concluded by stating that regional collaborations are crucial for national profitability. Afterwards a discussion started on regional versus national policy and what to do with regional investments.
Next Peter Post, Director of Task Force Health Care, had a call-to-action to jointly accelerate on international representation of the Dutch LSH sector. According to Post: "We can only create international impact when there is national collaboration." The audience was curious about concrete forms they can use and where to go for what.
The presentations ended with six pitches on various topics by the regional organisations attending. During these pitches, successful regional initiatives that want to scale up were presented. These pitches included the Center for Open Innovation in Lead Discovery (COILED), zorginnovatie.nl, a partnership on Healthy Lifestyle Innovation called C.I.A.L.E., Health Hub Utrecht, Foundation 'Mijn Data | Onze Gezondheid', and the call-to-action on input for Health~Holland to apply for 'Innovatiemakelaar'.

The meeting ended with drinks and bites and a chance to network. Currently Top Sector LSH is working on the follow-up of this meeting to continue its efforts to strengthen the connections between regional and national LSH organisations.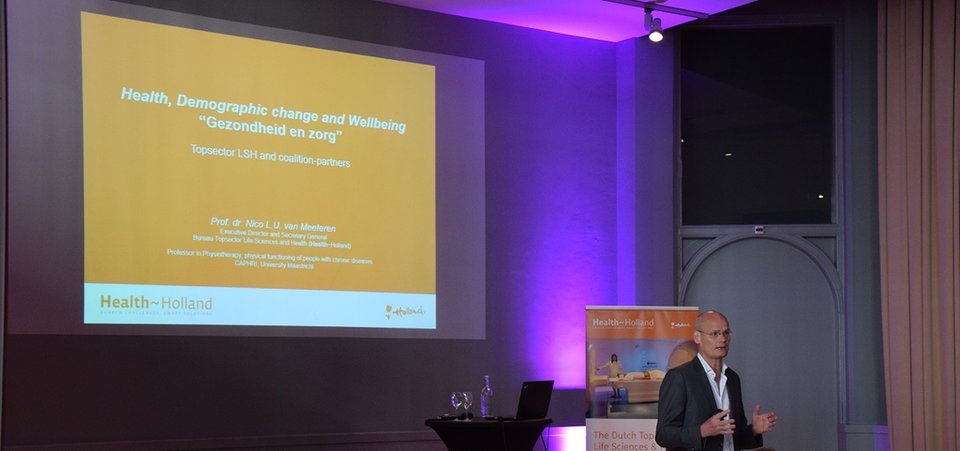 Strategic public-private partnerships: inspiring each other

The second PPP meeting organised by Top Sector LSH

Joining forces to tackle worldwide societal challenges is becoming increasingly common in the field of healthcare research. Large consortia focusing on cancer, cardiovascular medicine and regenerative medicine are formed by Dutch researchers in close collaboration with industry, SMEs and the Top Sector Life Sciences & Health (LSH). The Top Sector aims to facilitate such initiatives to ensure good organisation and to develop sustainable financing. Therefore, the Top Sector will include several of these so-called strategic public-private partnerships (PPPs) in its new strategic document (Knowledge and Innovation Agenda 2018 – 2021).
On 31 May 2017, around 30 Strategic PPPs came together in Utrecht for a second time to inspire and inform each other. Although the status, development phase and challenges of each individual PPP are different, all PPPs have to deal with the same general aspects of strategic PPP formation. By exchanging information during such a meeting, PPPs can learn from each other. Koen Besteman, Principal at Roland Berger, gave a presentation about the different characteristics and funding sources that apply for strategic PPPs. Since Roland Berger has a long history in guiding healthcare PPPs, Besteman addressed the typical threefold approach when setting up a PPP: 1) development of a business plan, 2) building a consortium, and 3) public affairs. In addition, a successful set-up of a PPP has to include a clear project structure and mobilisation of leadership.


Evolution of CVON into the Dutch CardioVascular Alliance

Next professor Wiek van Gilst explained his initiative: the Dutch CardioVascular Alliance (DCVA). DCVA is a movement of the cardiovascular community in the Netherlands and is represented by the Heart Foundation, Netherlands Heart Institute, Heart & Vascular group, NFU, KNAW, NWO, ZonMw, the Dutch government and the Top Sector LSH. Together they aim to mobilise one billion euros for early recognition of cardiovascular diseases (CVD), which will be rapidly translated into health solutions to reduce the cardiovascular burden by 25%. DCVA is building on the existing CVON community and is attracting new (industrial) partners to reach its goal: from scientific results to marketed products. They have therefore set-up a valorisation and implementation fast-track programme, next to portfolio management of their consortia, to realise maximal societal impact.


Meet & Match

The rest of the meeting was devoted to a meet & match information session for strategic PPPs with the the Netherlands Enterprise Agency, Government ministries (Economic Affairs; Health, Welfare and Sport; Education, Culture and Science), NWO-TTW, SGF and Top Sector LSH. More information about the PPPs will become available in our new strategic agenda, which will be published in July 2017 on the Health~Holland website and in the upcoming Update.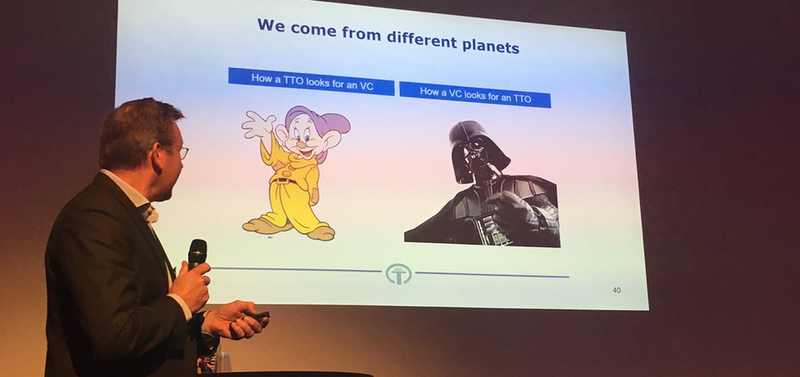 HollandBIO Biotech Thursday

Last year, HollandBIO launched Life Sciences 2030: a joint vision to gain momentum for the Dutch life sciences sector towards 2030. One of the key recommendations of this vision was to create a cast-iron innovation climate focuses on technology transfer. Agile technology transfer offices that operate in the heart of the academia are crucial for valorization. Last week's Biotech Thursday zoomed in on this important subject. Three renowned speakers shed a light on how to organize the technology transfer process in life sciences to create a win-win situation for all stakeholders involved.

After a short introduction by HollandBIO's Annemiek Verkamman, Carsten Linnemann took the stage. Carsten co-founded T-Cell Factory, a spin-off of the Dutch Cancer Institute (NKI), and currently works as a principal scientist at Kite Pharma. The technology transfer office (TTO) of the NKI fulfilled a crucial role in the successful establishment of T-Cell Factory, enabling access to finance, external business development expertise and most importantly, giving the founders the necessary entrepreneurial space. Carsten's advice: if you want to create a win-win situation for both the TTO and the startup, look for shared interests. In March 2015, T-Cell Factory was acquired by Kite Pharma: a success for the company's founders as well as for the NKI-TTO.

The second speaker was Angus Livingstone, valorization director at Oncode Institute. The Institute bundles all available expertise to achieve one goal: outsmarting cancer and impacting lives. To this aim, 43 research groups will work together within Oncode Institute. In addition to providing basic funding for all principal investigators, Oncode Institute offers funding for equipment, technology access and clinical proof-of-concept studies. The targeted funding model aims to transform scientific excellence into societal and economic benefits. The Institute will be launched this summer.

Last but not least, Harrold van Barlingen, managing partner at Thuja Capital, presented a VC perspective on successful technology transfer. Like many life sciences investors, Harrold has a solid scientific background. As a result – although surprising to some – most VCs express a profound interest in the technological basis of their investment portfolio. Harrold states that TTOs and VCs often speak different languages, complicating their interaction. As an investor you have to deal with high risks and high failure rates. About one third of the investment portfolio goes bust and for the investments that do succeed, it takes typically 7 to 10 years before return on investment. Therefore, creating a balanced portfolio is crucial. TTOs are not equipped to manage these high risks and long timelines, making it hard to close a deal. TTOs are struggling with ever-changing landscapes, and limited financial and human resources. In order to succeed, TTOs should develop a partnering model, team-up with investors in an early stage, turn ideas into financeable packages, and take scientist by the hand to guide them through the process. According to Harrold, this approach will result in a smooth and successful technology transfer process and a win-win situation all players at the table.

As always, after the inspiring presentations, HollandBIO's Biotech Thursday offered ample time to talk on with peers over drinks.