Communication

The latest developments & updates

Find more news on communication-related issues within the Dutch LSH sector. Ranging from training programmes, events, blogs or awards.

Gerard Schouw of Association Innovative Medicines: "Pharmaceutical sector is hidden gem."

The Dutch pharmaceutical sector is good for 65,000 jobs and is the European leader in terms of new biotech patents. These are two conclusions from a report written by consulting firm PwC on the economic footprint of the sector.


However, additional investments are needed to maintain the pharmaceutical production in the Netherlands. PwC made the rapport on behalf of the Association Innovative Pharmaceuticals. "The report tells us two things," says Gerard Schouw, director of the Association. "On the one hand our sector is still a key economic factor, with a lot of activity and employment. On the other hand there is a risk that the production of pharmaceuticals could disappear from our country. That would be bad for our economy, employers and patients."

"We can only address the challenges that lie ahead if we work together", says Schouw.

Employment

The 65,000 jobs in the sector concern both direct and indirect employment. The companies focus on the pharmaceutical raw material industry, clinical research, and the development and production of pharmaceuticals. The employment is relatively stable. In 2016, 420 companies were active in the Dutch pharmaceutical sector, including 20 big companies and 400 SMEs. In 2012 the sector had just 205 companies.


Positive

The report paints a mixed picture. On a positive note there is a lot of pharmaceutical activity in the regions of Leiden, Haarlem, Oss and Breda in particular. And compared to neighboring countries, the Netherlands is quite competitive. This is reflected, for example in the amount of clinical research (nine hundred trials involving more than 43,000 patients) and the number of patents applied for. In the period 2011 to 2015, the number of biotech patents in the Netherlands more than doubled: from less than three hundred to more than six hundred. Another plus is that the Netherlands has a good infrastructure for the development of innovative pharmaceuticals.

Fragmented

Following the major reorganisation at MSD (Organon) and Abbott in 2010, a fragmented landscape remained in terms of geographic concentrations. This can be seen, for example, in the growth of the Pivot Park in Oss and the Leiden Bio Science Park. A further striking fact is the large number of small and medium-sized companies compared to just a few big companies. The Netherlands also has a relatively limited production capacity and that is declining even further still.


Actions

Schouw recognises the need for various actions. "First of all the R&D climate in the Netherlands needs to be jump started. This can be done by strengthening clinical research, reducing the regulatory burden and improving the sector's reputation. Furthermore, mobilisation and scaling-up are essential. Pharmaceutical companies are increasingly open to collaborate with umbrella organisations, government organisations, technology companies and start-ups. We can only address the challenges that lie ahead if we work together. These challenges include the ageing population and an increased urgency for personalised treatment. And finally, the Dutch government must commit itself to bringing the European Medicines Agency (EMA) to the Netherlands. Our country has excellent credentials for hosting this organisation. The presence of the EMA in the Netherlands would boost the Dutch pharmaceutical sector and economy."


Paul Korte, Chairman Association of Innovative Medicines (left) and Jan Raaijmakers, Chairman Top Sector Life Sciences & Health.

National Meeting on Health Deal for excellent pain care for chronic pain patients

The Dutch government wants to accelerate the wide application of effective care innovations. The 'Health Deals' between the government and (private) partners are intended to move these care innovations forward. Three Health Deals have already been signed: Decision support in oncology, Academy 'Het Dorp' on new technologies for people with disabilities, and chronic pain care.

Recently a national meeting was organised for the Health Deal on chronic pain. Here the current prospects and future plans of organisations involved in chronic pain control were discussed, as within this Health Deal the contracting parties want to make sensible, efficient and excellent pain care available for chronic pain patients. This will be done by introducing a new approach that improves the quality and efficiency of the treatment for chronic pain patients. The collaboration within the Health Deal not only allows the parties involved to learn from each other, but it also provides the impetus needed to raise awareness for chronic pain and to involve the government ministries .

The Ministry of Health, Welfare and Sport and the Ministry of Economic Affairs emphasised the importance of more efficient and better quality pain care by signing the Health Deal Chronic Pain. Furthermore, the use of eHealth in healthcare offers economic opportunities for companies in this sector.

Signatories

The Health Deal has been signed by Samenwerkingsverband Pijnpatiënten naar één stem, CIR, de Vogellanden, Realhealth, Sint Maartenskliniek, Radboudumc, Pijncentrum UMCG, Aratame Health, Diakonessenhuis, Landelijk Netwerk Oefentherapeuten Chronische Pijn, VUmc, Zilveren Kruis, HINQ, Happy Motion, the Ministry of Health, Welfare and Sport and the Ministry of Economic Affairs. The Health Deal is also open to other interested parties.


Join this Health Deal

You can join an existing Health Deal as a new party, for example because you have a certain expertise that can help to achieve the goals of the Health Deal concerned. Do you want to explore if and how you can join? Then contact the Netherlands Enterprise Agency and state that you are interested in joining a Health Deal.


The full text of the Convenant Health Deal 'Chronic Pain' you can find here.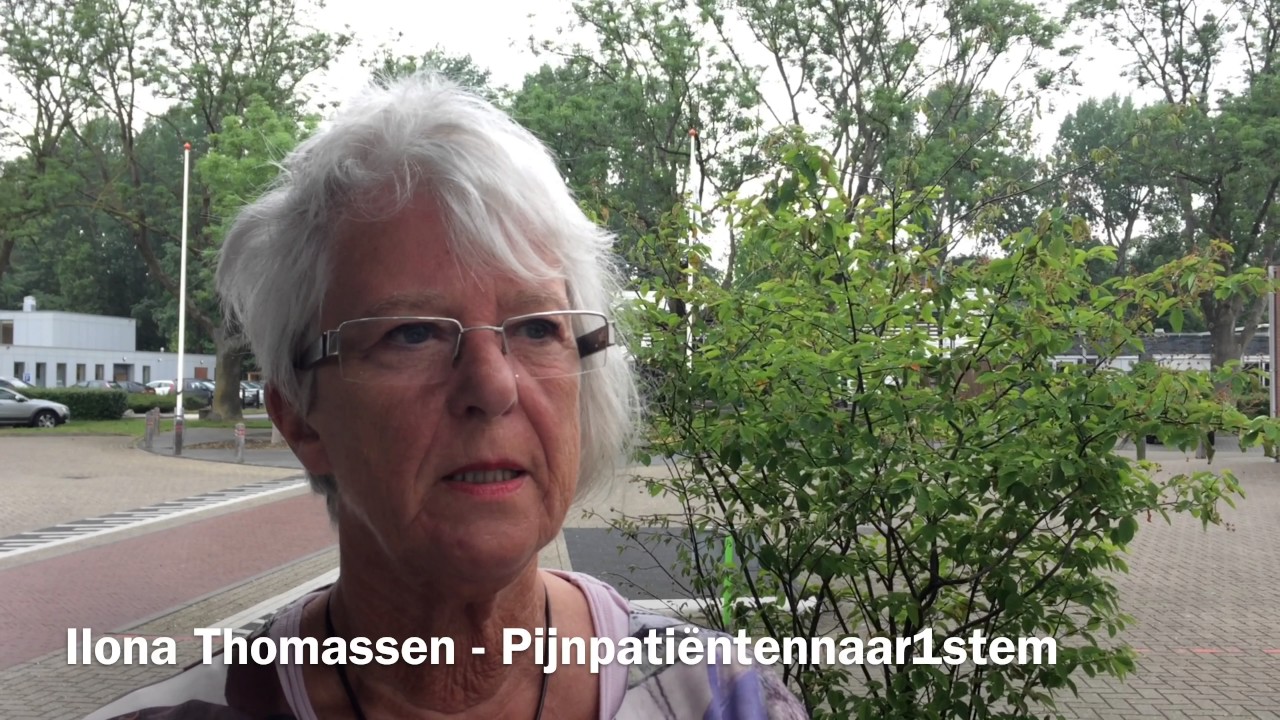 Utrecht Science Park officially launched

A year has passed since Bilthoven Biologicals, as former owner of Science Park Bilthoven, municipality De Bilt, province of Utrecht and foundation Utrecht Science Park signed a declaration of intent to collaborate in the field of Life Sciences & Health. On 11 May, the final cooperation agreement was signed and now the cooperation between Utrecht Science Park and Bilthoven is a reality. Utrecht Science Park is the first science park with two different locations. Knowledge institutions, research institutions and companies are working closely together to find new solutions for a longer and healthier life.


Due to the pooling of knowledge, networks and facilities, fundamental research at the cellular level is finding a direct way to the production of the final medicine or vaccine. Great steps can now be made to develop more and better vaccines and medicines and to make health accessible to all. Besides, with the relocation of the RIVM in 2020 to Utrecht Science Park/De Uithof, room is being created to attract new companies in Bilthoven that further strengthen the value chain. It also creates new jobs in the municipality De Bilt. Mayor Sjoerd Potters: "Our municipality is traditionally strong in the knowledge economy with the presence of renowned institutions and companies. At a local level we offer a good business location and they often operate internationally. Therefore, the commitment at an international working environment for our municipality and region is of major importance for strengthening the value chain and employment."

The collaboration will now mainly focus on strengthening the joint proposition. In a second phase a joint acquisition policy will be developed.
On 1 August, Jan Henk van de Velden will become the new director of Utrecht Science Park.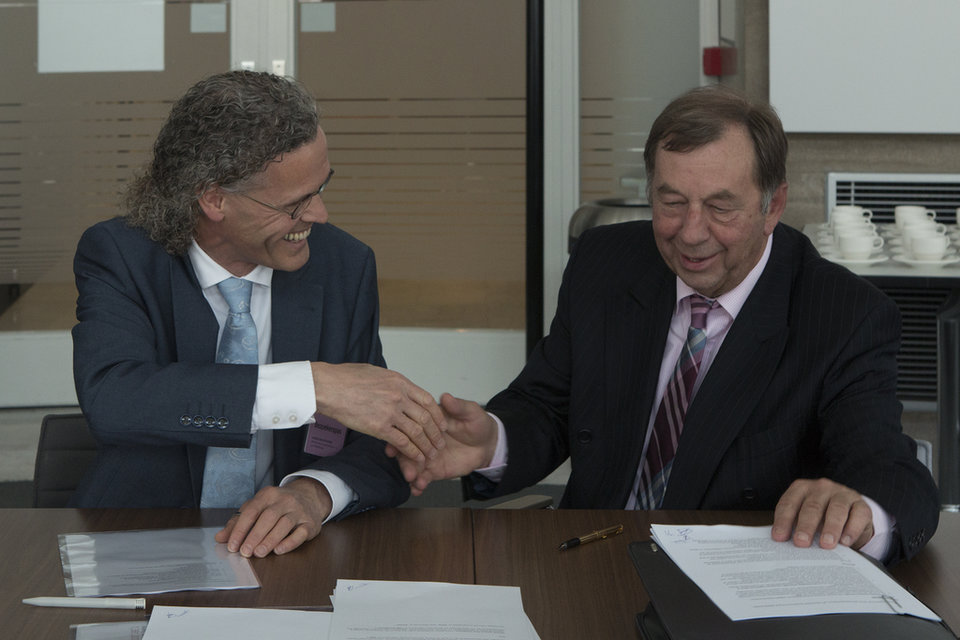 Jef de Clercq, CEO Poonawalla Science Park BV and Friso Smit, interim director Utrecht Science Park
Photographer: Wilma Witkamp

Combining forces on Campus Groningen

Campus Groningen recently had its kick-off and can been seen as a large-scale campus with over 180 companies, 19,500 jobs and more than 45,000 students. The ambitions are high and focused on expanding the economic and societal impact of its research and innovation activities.

The Zernike Campus, located on the North side of the city is a hotspot and testing ground for research, education and entrepreneurship. The Healthy Ageing Campus, where the university of Groningen and University Medical Center Groningen (UMCG) work together with companies on prevention, innovative treatment and diagnosis, recently merged with Campus Groningen.
Campus Groningen has great ambitions: each year five more companies and 55 more jobs. However, these numerical ambitions do not even matter: Campus Groningen must operate in an entrepreneurial manner based on a rich ground of knowledge. This will generate opportunities for growth, as with a growing and wider range of companies more knowledge will be requested from the University of Groningen, Hanze University of Applied Sciences and UMCG. As a result of this the strength of the network will grow. Entrepreneurship, facilities, knowledge, innovation and collaboration are therefore the central themes.

Intensive public-private collaboration between knowledge institutions, companies and facilities form the ecosystem of Campus Groningen.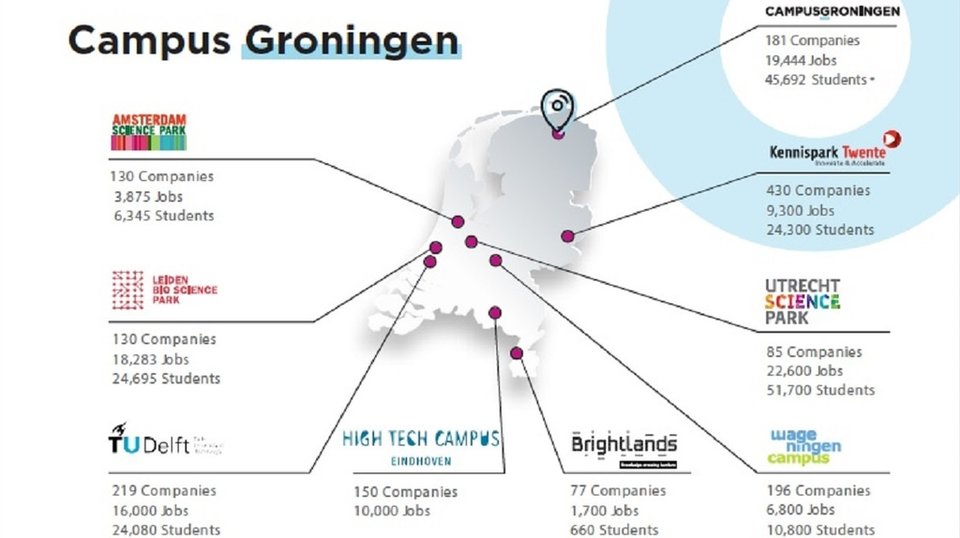 Campus Groningen in numbers (2015) alongside the eight existing campuses of the Netherlands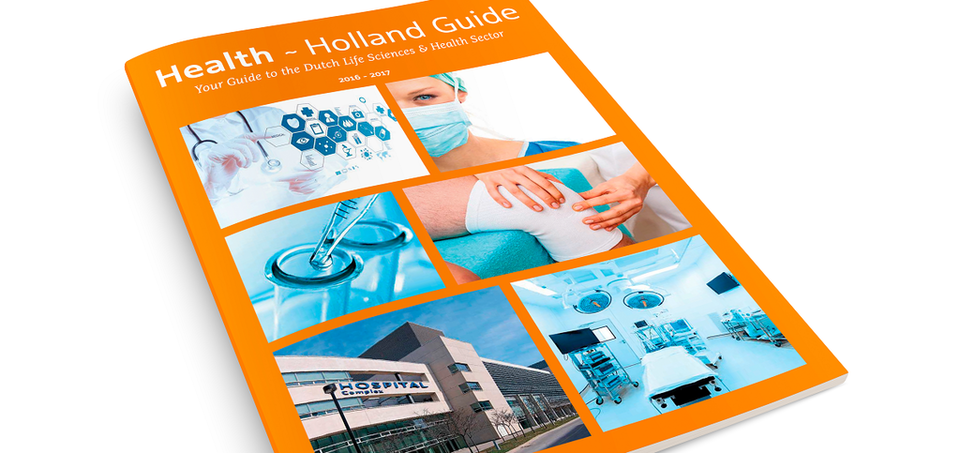 Present your organisation on a global scale with the Health~Holland Guide

The Health~Holland Guide (HHG) has already had a major impact on the international healthcare sector for fives years in a row. The HHG is a foreign-oriented guide in which Dutch organisations, active in the Dutch Top Sector Life Sciences & Health, are presented worldwide.


Did you know...

The HHG is also digitally available and was viewed more than 15,000 times in 2016! Moreover, this guide is distributed to more than 5,000 healthcare organisations, agencies and governments around the world. For example, it will be sent to relevant Dutch embassies, consulates and Dutch Business Support Offices (NBSOs). Additionally, the HHG is shared with hospitals, investors, distributors and government officers on national- and international level during international healthcare missions, trade fairs, incoming visits and numerous healthcare events.


Interested?

Two NRC Live evenings held and three more to come

NRC Live series: Future of Healthcare

Evening 1 on Behavior and health

From fast and cheap to sustainable and slow, many consumers have a growing interest in pursuing a healthy lifestyle. However obesity is a growing problem, especially amongst children and adolescents. Unhealthy food is widely available at rock-bottom prices and an active membership of a sports club costs a lot of money. The gap between educated and privileged citizens and less fortunate members of society is growing. This is unacceptable, according to executive councillor Victor Everhardt from Utrecht. He and other opinion leaders, such as Machteld Huber (Institute Positive Health), discussed this dilemma and its possible solutions with the audience during the first session of a five-evening series on healthcare innovations, organised by NRC Live and powered by Health~Holland.

Max Christern (chairman): "Adapting behaviour is a long-term process."

Evening 2 on Technology as motor of innovation

The second NRC Live session addressed the technological branch of the sector. Technological developments and capabilities in healthcare have evolved considerably. The advance of medical technology offers opportunities to not only improve healthcare, but to make it more efficient and cheaper as well. However, paving the way for innovation and building a healthy society requires the collaboration of all parties according to Martijn de Bie (Verscentrum Nederland). During this session the cross-compliances and challenges for the development and implementation of eHealth were discussed. One important conclusion was drawn: to further pave the way for technological innovation in healthcare, we must co-create with the patients. Innovations must be realised not from a medical perspective but from a patient perspective.
Some lessons on patient participation can be found in the report of the PatientTOP.

Gerard Boekhoff (Neokidney Foundation): "We must innovate from the patient's perspective."

Upcoming sessions

Three more inspiring sessions on 'Organising smarter and better', 'New business models and finance' and 'The Great Care Debate' will follow. During these Thursday night sessions, innovators, visionaries and leaders will engage in a debate about important decisions, obstructions and opportunities. Sign up and participate! Top Sector LSH hopes to meet you there.
Biotechgate 2017 report confirms leading position of Dutch life sciences industry

Leading global business development database Biotechgate presents its 2017 trend report for the Dutch life sciences market. The annual trend report for the Dutch life sciences market shows that the country remains an important centre of the industry.


There were 14 major financing rounds in the biotech sector in 2016 for the total amount of 71 million USD. However, the number of newly founded companies was much lower in 2016 than in the previous years. According to our data, there are almost 500 biotech and around 120 medtech companies in Netherlands at the moment. For the first time, we included the health sector in our analysis as it grew significantly in recent years.

Biotechgate is a global business development database containing over 40,000 company profiles and providing the user with information on available licensing products, financing rounds, key management, technology platforms and more.

Whether you are looking to partner with a Dutch company or looking for a specific service, you'll find the most complete overview of the Dutch life sciences sector at www.dutchbiotech.com.

Is your company not listed in the database or is the information dated? Click here to adjust. For more information contact HollandBIO.