Public-Private partnerships

More examples of Public-Private Partnerships

Some detailed examples of public-private partnerships of the last period to get inspired by.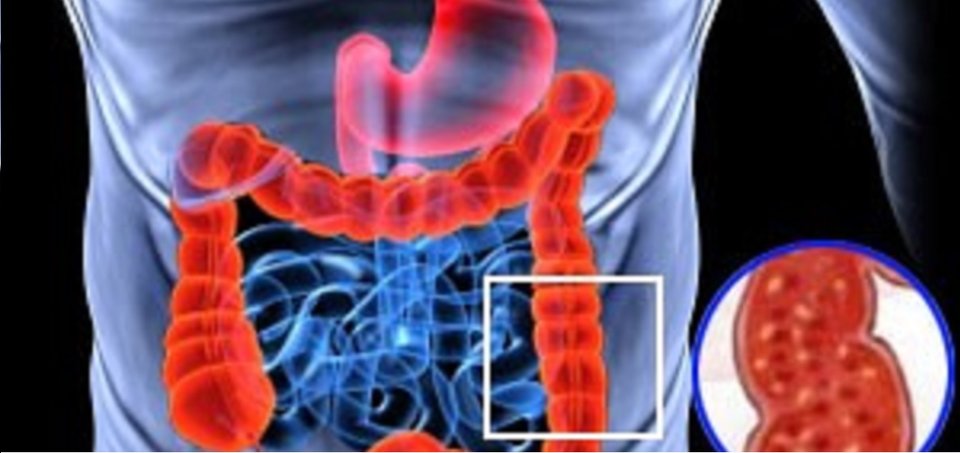 A new class of medicine for Ulcerative Colitis

The effects of specific kinase inhibitors in colitis models

Inflammatory Bowel Disease (IBD) arises by excess inflammation in the gut by unknown cause. As IBD affects mostly young adults, is relatively common (80,000 patients in the Netherlands) and is a live-long condition, new treatment modalities are very much welcomed as current therapies have important shortcomings and come with high treatment costs.
Here, a public-private partnership with the Academic Medical Center (AMC) and GlaxoSmithKline's (GSK) drug development progression facilities is established, to develop new therapeutic options for IBD. One such novel therapy could come from inhibition of so-called Jak kinases, which are inflammatory proteins that are produced by immune cells signal to target cells via signal transduction mechanisms. More specifically, Jak1, and Tyrosine Kinase 2 (Tyk2) are involved in signalling of pro-inflammatory cytokines involved in IBD. These cytokines signals via Jak and Tyk kinases mediate their actions on inflammatory responses. Small molecule Jak inhibitors targeting Jak by inhibiting its activation are currently tested in clinical trials for various inflammatory diseases such as Rheumatoid Arthritis and (IBD). However, these molecules target large classes of Jak molecules.
In this project, the AMC and referral center for IBD is collaborating with GSK to allow testing of newly developed small molecules inhibiting Jak kinases more specifically than current medication. Rather than general Jak inhibitors, specific Jak inhibitors were tested preclinically (at the lab and in animal models). However, Jak1 inhibitors were also tested in a small patient trial.
Our results show that a novel orally delivered specific Jak kinase inhibitor has clinical potential to reduce colitis, in preclinical (Tyk2i) and clinical (Jak1i) studies. In retrospect, our project shows the potential of private-academic collaboration in small molecule development and pharmacokinetics, and its testing in preclinical phase as well as clinical relevant patients trials. The impact of this work for society and health care is that it has allowed the clinical introduction of specific Jak kinase inhibitors in IBD, a difficult to treat condition.
For more information about this research visit the website of the spin off company Gut Research B.V. or the IBD group website.

Please visit the Health~Holland project page for an overview of funded projects.
Imaging in LifeLines

A collaboration of Siemens and the University Medical Center Groningen (UMCG)

Lung cancer, chronic obstructive pulmonary disease (COPD) and cardiovascular disease (CVD) are prevalent in the general population and are expected to cause most deaths by 2050. For this so-called BIG-3, early treatment has been shown to delay or stop progression, and allow therapy at a treatable stage in many patients.
A newly developed computed tomography (CT) scan technique can evaluate quantitative imaging biomarkers of early stages of the Big-3 at ultra-low radiation dose. Imaging biomarkers, combined with clinical and laboratory biomarkers and medical decision support systems, can in the future open up new avenues for effective prevention and/or early diagnostic and treatment protocols. The well-characterised, population-based LifeLines cohort will be used to assess reference values of early-imaging biomarkers of the BIG-3 (Imaging in LifeLines: ImaLife study).
The ImaLife study aims to assess reference values of lung density, bronchial wall thickness, vascular calcification and lung nodules by quantitative low-dose CT in the general population aged 45 years and above. Secondarily, it aims to assess the prevalence of early lung cancer, COPD, and CVD, and the relation of quantitative imaging biomarkers of the Big-3 with clinical and laboratory markers. The ImaLife study provides an invaluable resource for the development and validation of biomarker profiles in the context of personalised medicine.
Please visit the Health~Holland project page for an overview of funded projects.

Image: CT image of heart showing calcifications in the left coronary artery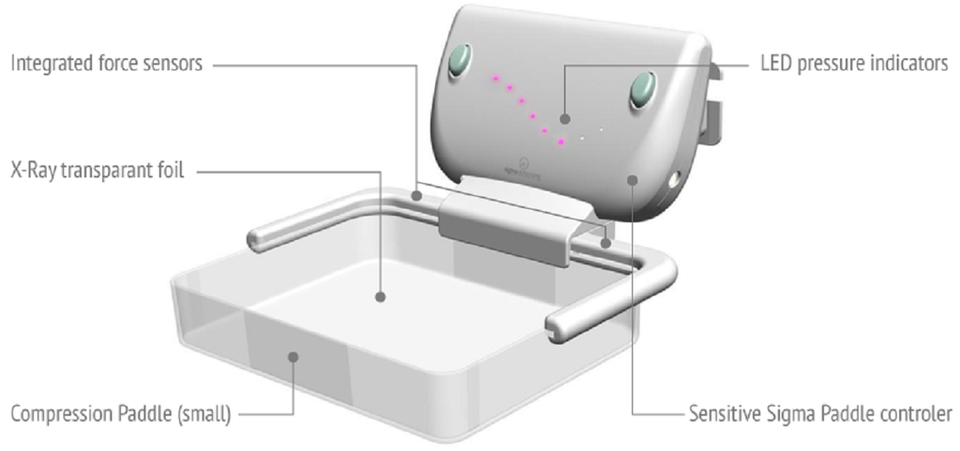 A study on the Sigmascreening's Sensitive Paddle for mammograms confirms potential health benefits

Fewer false positives, fewer false negatives and reduced unnecessary pain

Sigmascreening, a Dutch MedTech developer and world leader in the field of pressure based digital mammography and breast cancer screening, announces that a large independent Norwegian study further confirms Sigma's hypothesis that pressure has a clear relation with the most optimal results in mammography. The study confirms the importance of pressure in accordance with Sigmascreening's concept of the Sensitive Sigma Paddle, which applies pressure guidance during mammography. The combination of results of an earlier Dutch and this new Norwegian study shows an optimal pressure in the range of 10 kPa. This pressure clearly correlates very well with the proposed pressure by Sigmascreening.

The data show that high breast volume and low compression pressure are associated with positive performance measures such as lower recall rate and higher specificity (true positive) of tumor detection. Procedures with too low pressures result in unnecessary recalls due to false positives. Flattening of the breast on the basis of pressure, also prevents unnecessary discomfort and pain, which may contribute to a higher breast cancer screening compliance of women. The Sigma pressure technology aims to optimize these three elements.
Sigmascreening's Sensitive Sigma Paddle is the first pressure based compression paddle providing real-time and reproducible information on mammographic pressure, which can considerably reduce frequently experienced pain for women during screening. It optimizes compression for every individual breast, taking into account breast size and tissue stiffness, which leads to an optimal mean contact pressure per woman thereby optimizing both specificity (true negative) and sensitivity (true positive) for the most optimal screening result.

Ivo Aarninkhof, Sigmascreening's CEO, says: "We strongly believe that our less painful solution will increase the compliance of breast cancer screening programs, while at the same time significantly improves the diagnostic performance."

Rapid market acceptance in Europe

Sigmascreening's pressure-standardized breast compression is expanding rapidly in screening centers and hospitals throughout Europe. In Europe, over 10,000 patients already experienced the more woman-friendly way of making mammograms while clinicians are starting to recognize the improved sensitivity and specificity of our technology. The Sensitive Sigma Paddle with CE marking is already being used in the United Kingdom, Norway, France, Germany, Sweden, The Netherlands, Belgium and Switzerland.
Source: Sigmascreening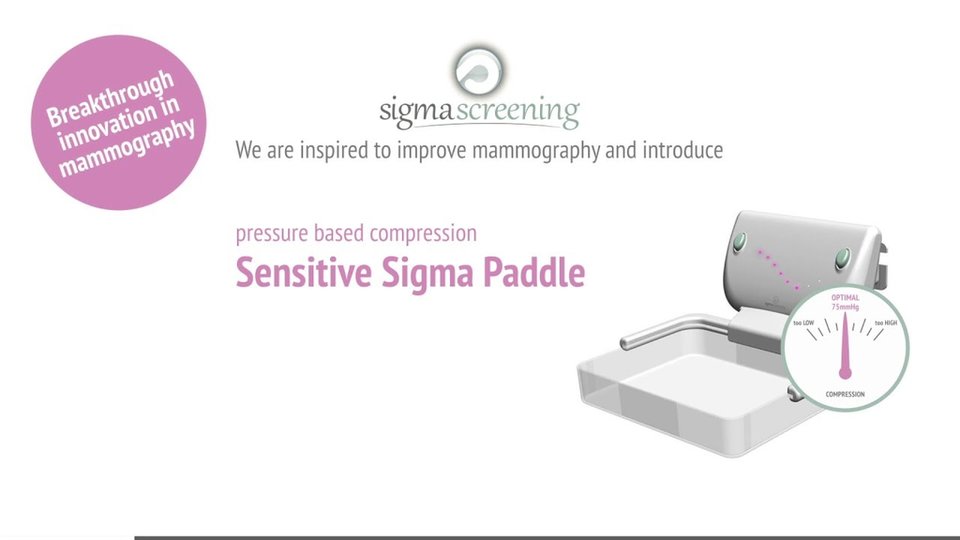 Dutch Kidney Foundation wins NENnovation Award

The innovative value of the portable artificial kidney

The first NENnovation Award has been won by the Dutch Kidney Foundation. During the celebration of World Standards Day, André Kuipers presented the award to Tom Oostrom, director of the Dutch Kidney Foundation. The project 'Portable kidney and universal exsanguination alarm connection' is a beautiful example of an innovative product with international impact.

The Dutch Kidney Foundation has an increased focus on the development and application of innovative concepts. In collaboration with industry, universities and Top Sector LSH, this has resulted in the development of a portable kidney according to a principle that now, via an active contribution of the foundation, is incorporated in an international norm.
Tom Oostrom: "Norm development is an important, necessary step to eventually acquire market acceptance so that patients can really benefit from our efforts."

About the project: 'Portable kidney and universal exsanguination alarm connection'

The Dutch Kidney Foundation is working via de social enterprise NeoKidney on the development of a portable kidney: a haemodialysis-device that fits in a suitcase and simplifies dialysis outside the hospital. For this multiple technological breakthroughs are being realised. However, before a medical device can be brought to the market, it must demonstrably satisfy the globally applicable standards with respect to safety and essential functionality. However, real technological breakthroughs are, by definition, not yet described in such standards! That is why the Dutch Kidney Foundation contributes to the drafting of new standards for dialysis equipment.


About the NENnovation Award

This year the NENnovation Award was presented for the first time. This award was established because normalisation and innovation are closely interlinked. Successful innovation requires extra attention for technological, economic, social and sustainable aspects and with that the involvement of multiple stakeholders. Normalisation will increase the success rate of innovative concepts and boost market acceptance.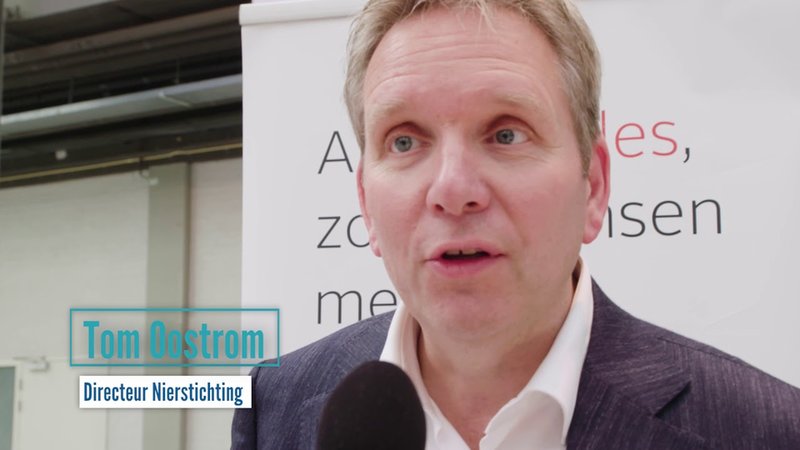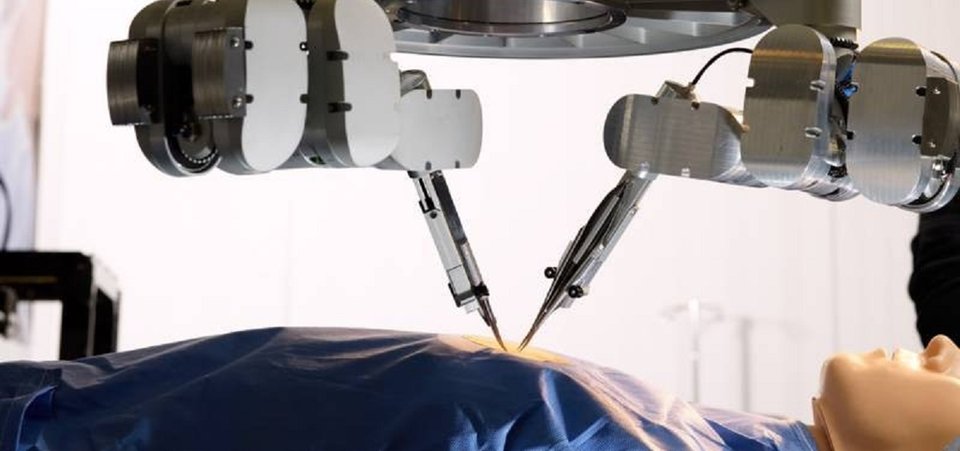 World's first super-microsurgery operation with 'robot hands' at Maastricht UMC+
Plastic surgeons at Maastricht UMC+ have used a robotic device to surgically treat lymphedema in a patient. This is the world's first super-microsurgical intervention with 'robot hands'. The surgeons used the robotic device to suture vessels of 0.3 to 0.8 millimeter in the arm of the patient. The robotic device, created by Eindhoven company Microsure, enhances the surgeon's precision, making this type of procedure easier to perform. The patient is doing well and the surgeons are enthusiastic. The news of this extraordinary operation has been announced on 27 September, at the 26th World Congress of Lymphology, in Barcelona.

Lymphedema, a chronic condition in which fluid builds up and causes swelling, is a serious disorder. It commonly occurs as a side effect of breast cancer treatment. A relatively new and potentially much better treatment for lymphedema is a super-microsurgery in which lymphatic vessels are connected to blood vessels to restore the flow of lymphatic fluid and alleviate the swelling. This intervention is, however, particularly difficult and stressful to perform given the extreme precision required from the surgeon. Worldwide, only a few surgeons are capable of carrying out this surgical technique by hand.

"Using our Microsure robot surgeons will be able to perform surgery with better precision and fewer complications," says Raimondo Cau, the technical brain of Microsure.

Surgeons in Maastricht found the solution in Eindhoven. The surgical robot of Microsure, a spin-off of Eindhoven University of Technology (TU/e) and Maastricht UMC+, is controlled by a surgeon whose hand movements are converted into smaller, more precise movements which then are performed on the patient by a set of 'robot hands'. The device also stabilizes any tremor in the surgeon's movements, which makes the procedure more controlled and thus easier to perform. The Microsure robot is expected to enhance a large number of microsurgical procedures and enable new interventions that are currently impossible to perform by hand. This will lead to better patient outcome and lower healthcare costs due to a reduced rate of complication and less post-operative treatment.
Carmen van Vilsteren, CEO of Microsure and member of the advisory board of the Top Sector LSH: "My main driver is the impact on patients' life and their health situation, this applies both in my work at Microsure as in my work for the TU/e and the Top Sector LSH."

Source: Maastricht UMC+, TU/e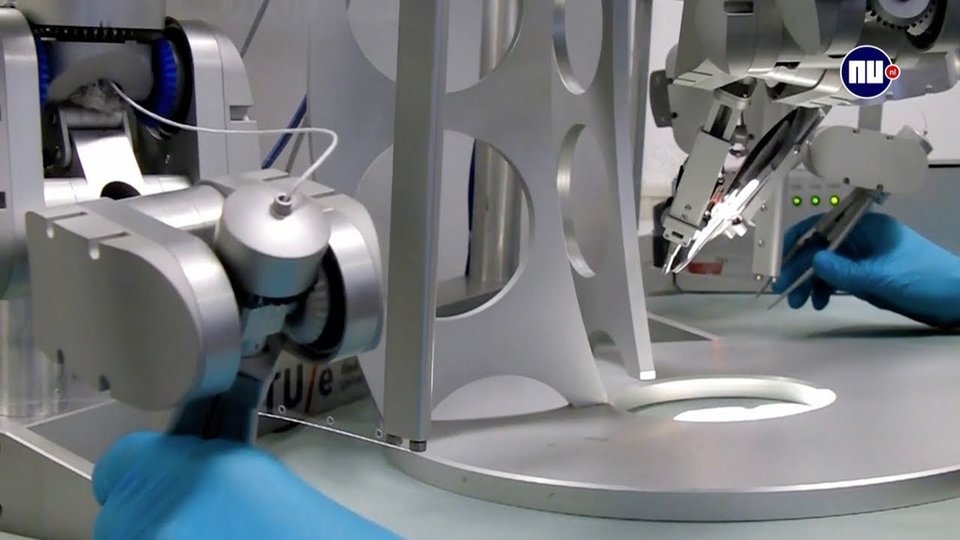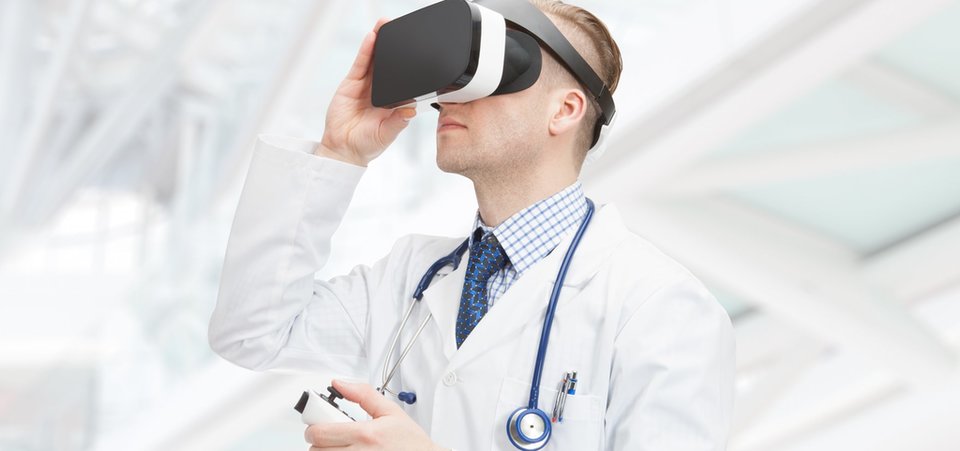 Evaluation of Innovation – Let's meet on 5 December to join forces

New public-private partnership to tackle the innovation paradox


The Top Sector Life Sciences & Health (LSH) invites all stakeholders, including academia, knowledge centres, industry, insurance companies, patient representatives, healthcare providers, and governmental agencies, to join forces in a public-private partnership on evaluating the impact (i.e. efficacy and cost-effectiveness, as well as implementation and adoption) of healthcare innovations.


Healthcare innovations are diverse; the development of new and improved drugs is still of great importance, but rapid technological developments will bring further innovations in treatments, early diagnosis, mobile health (wearables), e-health applications (digital health care and medical apps) and so on. The timing is right. The healthcare landscape is moving towards personalised medicine and self-management by the patient, and increasingly from tertiary and secondary to primary and preventive care. Medical innovations are a big driver of these changes, but pose a challenge with regard to their evaluation and implementation and to a sustainable and affordable healthcare system.
Top Sector LSH underlines the importance of evaluation of such healthcare innovations and organises a first meeting on 5 December to make a joint start with a public-private partnership on the Evaluation of Innovation. During both informative and interactive sessions, the Top Sector LSH will gather input and ideas to set up work packages within this new consortium. Together we aim to contribute to an evaluation methodology that is fit for the specific type of innovation or product, feasible for each field of innovation, and that is acknowledged and applied by all stakeholders. If you are interested in joining this first meeting, please contact Health~Holland.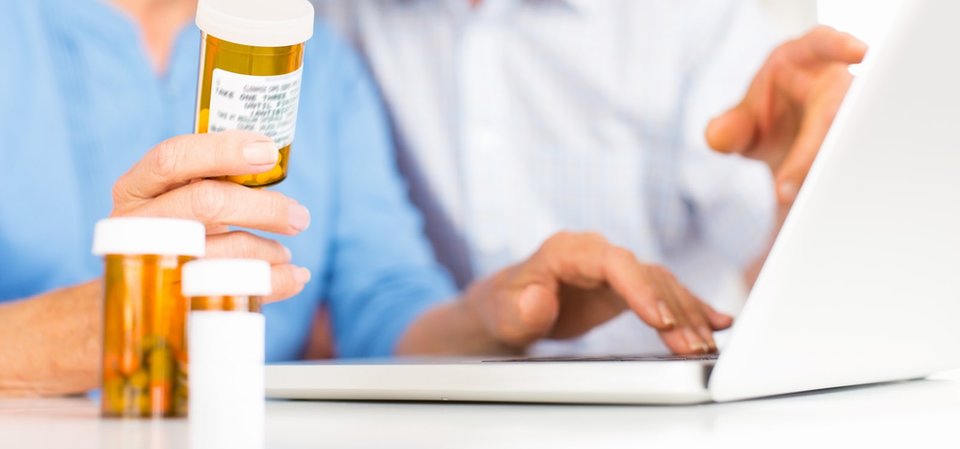 Solutions for tomorrow's health care: faster & better from bench to bedside
On Friday, 10 November 2017, the SGF (the Dutch Cooperation of Health Foundations) organised their annual SGF Day. During this day, the Dutch biotech industry organisation, HollandBIO, hosted an interactive session to discuss the future of our healthcare system, and more specifically the role of innovative medicines and therapies within this future.

Biotech is keeping up its promise of delivering groundbreaking products that change the lives of an increasing number of patients worldwide. Yet the road from bench to bedside is too long, too risky and too costly. If we, the life sciences & health sector, want to continue delivering transformational innovations to patients in need, we must do it better and faster. HollandBIO is convinced that we need to focus on solutions that speed up and improve the challenging road from bench to bedside. These solutions will simultaneously boost health, innovation and affordability, creating a win-win situation for the many stakeholders involved.
At the SGF Day, prominent Dutch health foundations joined HollandBIO in its quest to identify opportunities that speed up and improve the drug development trajectory. The session resulted in a range of shared solutions: empowering entrepreneurship within academia, the implementation of innovative tests and predictive models, strong patient involvement, adaptive pathways for registration and reimbursement, innovative financing models, and more. The session was a great base for future collaboration, as many of the solutions seamlessly fitted into the HollandBIO Faster, Better! Programme.
HollandBIO is pleased to find increasing support for its Faster, Better Programme. There is no quick fix and in order to make progress, we need to work together. By combining the many strengths of the Top Sector Life Sciences & Health, the Netherlands can and will lead the way in shaping the future of drug development.